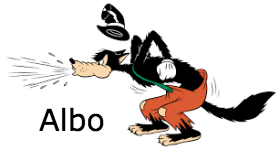 12.06.19.
It's like watching a re-run of "The Three Little Pigs" as the wicked wolf Albanese draws his deepest breath and threatens to blow down John Setka's house of the CFMMEU if he doesn't be a good boy and piss-off! We must wonder if Albo thinks he can dispatch Setka or is he simply window dressing as does Labor when it comes to annoying the CFMMEU stronghold? Whatever, the beleaguered Albo is presenting as a coddled dibbler in the old men's home garden as he samples the horse manure for quality.
John Setka is defying pressure to stand down as Victorian boss of the militant construction union despite admitting he told a group of unionists that domestic violence laws had become too skewed against men.
Source: News Corp
Construction union boss John Setka digs in amid calls to quit
ACTU secretary Sally McManus last night rushed back from a UN labour forum to address growing concerns in union ranks about Mr Setka's refusal to quit the leadership of the Construction Forestry Maritime Mining and Energy Union.
Mr Setka has denied reports that, at a meeting of the CFMEU's national executive, he blamed Rosie Batty's advocacy for a lack of men's rights in domestic violence cases. The Australian understands Ms McManus left an International Labour Organisation meeting in Geneva to deal with the controversy surrounding Mr Setka, with senior union figures privately calling for the controversial figure to step aside.
Union sources said Mr Setka had lost the confidence of his deputy, Shaun Reardon.
Anthony Albanese yesterday declared he would push for Mr Setka's Labor Party membership to be revoked while Victorian Premier Daniel Andrews took moves to sack him from a state government body.
Mr Setka hit back at the Opposition Leader and accused him of falling for "dirty ALP politics" while denying making denigrating comments about Ms Batty.
But he confirmed to The New Dailyhe had told a group of unionists his lawyers had advised him domestic violence laws had become skewed against men after the Victorian royal commission into family violence.
"People are making up lies about what I said. Every time I see Rosie Batty I want to give her a hug. I am not going to stand down over innuendo and lies. This is dirty ALP politics," Mr Setka said.
Union officials said the ­comments by Mr Setka to The New Dailywere damning and ­further evidence of why he should resign.
"He says reporting of what he said about Rosie Batty were an outright lie but then says her campaigning led to laws being skewed against men. The general view is he has to go," one official said.
If Mr Setka refuses to quit in coming days, union sources said action could be taken against him at a meeting next week of the CFMEU's construction division executive. Sources said a motion could be passed that he has brought the union into disrepute.
Labor's national executive committee yesterday agreed to suspend Mr Setka's party membership ahead of a meeting on July 5 to vote on Mr Albanese's motion to expel him.
Mr Setka, who is expected to hold a press conference today, ­indicated last month he would plead guilty to using a carriage service to harass a woman. Bill Shorten yesterday broke his ­silence on the saga and backed Mr Albanese's push to expel Mr Setka from the party.
The former opposition leader, whose six-year leadership was supported by Mr Setka and the Victorian CFMEU, said he was a friend of Ms Batty and had reached out to her. "The reported comments are outrageous," a spokesman for Mr Shorten said.
"Mr Shorten is a friend of Ms Batty and has great respect for her work. Mr Shorten supports the party's actions against Mr Setka."
Mr Albanese said he had written to Labor federal secretary Noah Carroll to advise he would move for Mr Setka to be expelled from the ALP at next month's ­national executive meeting. ­Reports on Mr Setka's comments about Ms Batty were first published by Nine newspapers on Saturday.
"John Setka does not belong in our party because of the views that he holds," Mr Albanese said.
"I spoke to Rosie Batty yesterday about her concern with the views he expressed. She's disappointed this was a distraction from the honour she received yesterday. Rosie Batty is a great campaigner against family violence and the idea she should be denigrated by someone like John Setka is completely unacceptable to me as leader of the Australian Labor Party and I don't want him in our party. It's that simple.
"My concern here is John Setka undermines the credibility of the trade union movement through the position he holds and the public views he's expressed."
Mr Andrews, who refused to criticise Mr Setka until yesterday, backed Mr Albanese and also moved to remove the union boss from the state government's Building Industry Consultative Council: "Rosie Batty is a person of great courage who has fundamentally changed the way our country views and acts on family violence. She is rightly admired by all Australians.
"The comments made about her by Mr Setka are disgraceful and his refusal to apologise for them is appalling. They cannot be defended in any context and I support the actions Anthony Albanese has taken."
Scott Morrison said Mr Setka should have resigned his position "a long time ago" and declared he was merely "one Labor thug in the union movement".
"They can root out one Labor thug in the union movement, but there's plenty more where John Setka came from. Because the CFMEU is one of the most litigated against and charged unions in the country. Their charge sheet is longer than your arm. And John Setka is just one of many," the Prime Minister said.
Victorian Trades Hall Council secretary Luke Hilakari said Mr Setka needed to withdraw his comments about Ms Batty.
"We have the deepest respect for Rosie Batty and what she's done,'' Mr Hilakari said.
"We believe everyone has a right to feel safe and be respected. Prejudice and discrimination, including misogyny, have no place in our movement."
Australian Workers Union ­national secretary Daniel Walton said the allegations against Mr Setka were "quite damning, and, frankly, quite diabolical".
"I think the stances that have been taken by Sally McManus and, of course, Anthony Albanese, leader of the Labor Party, send a pretty strong signal that this kind of behaviour, if proven guilty, certainly won't be accepted in the trade union movement and shouldn't be accepted anywhere in society,'' he told ABC television.
Master Builders Australia chief executive Denita Wawn said, while the stand taken by Mr Albanese and the ACTU was refreshing, "it's cold comfort for our members who daily bear the brunt of bullying from construction ­unions and their officials".
"On the upside, this can be a turning point for Labor if they take the next step and seize this opportunity to reject the CFMEU's toxic culture of bullying,'' she said.
Ms Wawn said Mr Setka was "just one of many construction union bullies … who have records of breaking the law. Many are still in powerful positions overseeing millions in member's money".