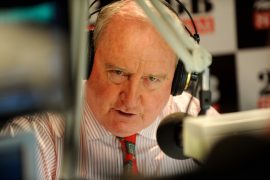 29.05.19.
You had to laugh at the supercilious twit Paul Barry, ABC's smug mouth for Media Watch as he bagged Alan Jones. Barry
earns
makes $191,000 p/a and has nine staff all paid for by taxpayers. Jones has a far greater audience and goes to the bank with $4 million p/a—not a penny of of taxpayers' money. How green are the grapes for the snipe Paul Barry?
Jones' show has been number one in Sydney for 15 consecutive years.
Macquarie Media Limited yesterday announced that it has re-signed Alan Jones, the host of its 2GB Sydney and 4BC Brisbane breakfast radio programs, to a new two-year contract which will commence on July 1st 2019 at the conclusion of his current contract.In announcing the signing, MML Chairman Russell Tate said he was very pleased that Jones would continue to be an integral part of the Macquarie on-air team for at least another two years.
Mr. Tate commented that "Over his already extraordinary radio career, Alan has dominated Sydney radio with 218 ratings survey wins, including 15 consecutive years at Number 1 on 2GB – an unprecedented achievement.
And with Alan's current ratings share of the Sydney radio audience amongst the highest it has ever been, his dominance shows no sign of slowing down.
All of us at Macquarie are delighted that we will continue along for the ride with one of the Australian media's most outstanding performers."