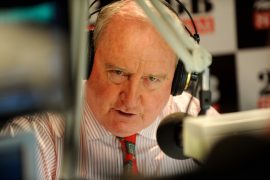 20.05.20.
This article by Alan Jones was published yesterday in The Daily Telegraph. It hits the nail on the head as Jones does with so many opinions.
Eight out of 10 people who get COVID-19 will have mild — or no — symptoms, writes Alan Jones. So why are we allowing fear of this virus to put us in an ever-deepening black hole of debtI don't know whether Prime Minister Morrison has been brushing up on his high school Shakespeare, but in Hamlet, Act 4, Scene 5, Claudius echoes sentiments that very much apply to our political predicament today. "When sorrows come, they come not in single spies but in battalions". When bad things happen, they don't happen alone. Politically, four major issues confront the Prime Minister today. Three are most probably obvious.
Source: Alan Jones, The Daily Telegraph
Fearmongering must stop, we must start working on the economy
The pandemic, the inordinate and unprecedented and financially defying cost and the consequential breakdown in relationships with China.
Let me deal with a fourth issue.
Could cannabis be the economic high Australia needs?
Greta, Fauci and confused experts spin the virus wheel
When Prime Minister Morrison held a press conference on Sunday, March 15, at what he called a historic gathering of the first-ever National Cabinet, he made a serious observation:
"The truth is that while many people will contract this virus, it is clear, just as people get the flu each year, it is a more severe condition than the flu, but for the vast majority … around 8 in 10 is our advice, it will be a mild illness and it will pass.
"However, for older Australians and those who are more vulnerable … it is a far more serious virus and that is our concern.
"Our aim in all of this is to protect the most vulnerable, the most at risk".
We were told repeatedly who they were: the elderly and, independently of your age, those with a pre-existing condition; that is, people who would contract the virus but already had one or more additional conditions like diabetes, lung disease, heart disease, asthma or liver disease.
TV presented Richard Wilkins returned a positive coronavirus test result three times but displayed no symptoms. Picture: Instagram
Therefore anyone, of any age, with such a precondition would be vulnerable; but, "for the majority, around 8 in 10 is our advice, it will be a mild illness and it will pass".
It will be, for example, Peter Dutton or Richard Wilkins.
Yet Australians have been seemingly whipped into fear and anxiety every time it is breathlessly reported that there is "another case".
Nowhere has it been emphasised that, even today, of the 2.5 million active cases in the world, 98 per cent of them are mild.
Of course we know that China let this virus loose and Europe, with open borders, has been an abomination.
But the reality which has not been reinforced is that "for the majority, around 8 in 1 … it will be a mild illness and it will pass."
It's not complacency to argue that case. It is essential to deny everybody, from politicians down, the indulging in alarmism.
Fear was fostered from the outset. But here we are, as of yesterday, May 18, 16 critical cases and 99 deaths. The active cases are 580.
Remember when we were told 150,000 people were going to die?
We wouldn't have enough intensive care beds? Sixteen of the cases are critical — 0.22 per cent of all cases.
This is absolutely consistent with what the Prime Minister said on March 15.
But we have departed a long way from that.
The elderly have reason to fear coronavirus — but 80 per cent of the population who get it will be fine.
Now people are shouting at one another in the supermarket queues as if someone who accidentally moves within 1.5m of the person in front is the active architect of their fate.
The challenge we have now is to dismantle this fear.
We are an island continent.
If we had better managed international travel or outfits like the Ruby Princess, then the figures would be even better.
Europe failed because its open borders policy failed.
Europe failed because Italy became a basket case, and people would be amazed to know that Italy is almost a satellite of China.
The Chinese own businesses in the financial, telecommunication, industrial and fashion sectors of Italy's economy.
China owns more than 300 companies representing 27 per cent of major Italian corporations.
The Bank of China now owns five major banks in Italy.
Chinese state entities own Italy's major telecommunication corporation as well as its major utilities.
China also now owns controlling interests in Fiat-Chrysler, Terna and Pirelli tires.
All the profits go to China.
Try Ferretti Yachts, the most prestigious yacht builder in Europe, Chinese owned.
Try the fashion industry. Pinco Pallino, Miss Sixty, Sergio Tacchini – 100 per cent Chinese owned
Throw in outfits like Salvatore Ferragamo.
And, as Italian Prime Ministers changed and the left, some would say the communists, ran the government, the ports were reopened and thousands of unvetted and undocumented refugees arrived from everywhere.
But importantly, access was provided to the Chinese.
Foreigners poured in and the majority from Wuhan began arriving in Milan, and then, in December last year, the coronavirus hit.
The rest we know.
To simply argue that we need to be afraid because otherwise we could finish up like Europe, is a piece of intellectual sloppiness which we don't deserve.
Which brings us, in racing terms, to the trifecta of our actions that should have been taken.
Obviously we should have thrown early resources at the vulnerable.
We know who they are.
The second component of the trifecta was to keep business, as far as possible, within certain conditions, in business and to keep people at work in work.
No one was suggesting open slather.
But somehow, alarmism took over.
We were hypnotised by the media fear that 150,000 Australians might die.
And the economy was put in a coma.
The same people in the media who told us that Bill Shorten was going to win the election by any number of seats, were the same people reminding us that we were going to be overwhelmed.
Fear took root.
We are now living with the consequences, economic black holes.
There is no need for this mindless anxiety in the supermarket queue.
Yes we have been told to practise social distancing, and we do that.
Yes we have been told to practise improved hygiene and we do.
But it is time to start trusting the Australian people.
The restaurant can open for 10 people.
You can ride in a public bus but they are only allowing 12 people.
Can you imagine the anxiety and anger when you are the 13th person being counted in?
Then the NSW Premier is advising workers to avoid travel before 10am or after 2pm.
Where do these figures come from?
This engenders further fear.
The Prime Minister was right on March 15 but, because of fear, anxiety and alarmism, at every level of society's management, the Prime Minister is now facing a gigantic mountain which, at first blush, seems impossible to climb.
For example, we were told on Friday that banks have deferred more than $220 billion in mortgages and business loans to 200,000 companies in the last 6 weeks.
Contemplate that!
If the good times were to arrive in September or October, then those businesses have to be able to resume payment of their loans and repay the $220 billion that has been deferred.
Unless my maths are deficient, that is impossible.
I think while Shakespeare reminds us of the problems coming in battalions, history tells us that the public can be unsympathetic.
In 1945, in Britain, Churchill called an election fewer than two months after the end of World War II.
The Opposition Leader, Clement Atlee, had been there and at it since 1935.
He argued that Churchill might not be able to manage the recovery.
The public were asking, who can rebuild the country?
The polls showed strong approval ratings for Churchill but the final result was a landslide.
Labour, the opposition, won 239 seats.
The Conservatives, under Churchill, lost 189.
They campaigned on the belief that Churchill would win on his wartime triumphs.
The swing to Labour from the Conservative Party was 10.7 per cent, the largest ever seen in a general election in the United Kingdom.
The big risk for Scott Morrison, Gladys Berejiklian and others is that the public may suddenly decide that those who got us into the economic mess are not the ones to get us out of it.