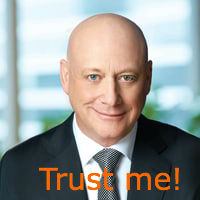 AGL's Andrew Vesey: Robin Hood or robbin' bastard?
$223 million in government grants.
Don't we just love arrogant foreigners flocking to Australia with their carpetbags to pick us clean—and then laugh in our faces? There must be a seminar in the US teaching them how to do it. Probably run by the "Three Amigos" who stuffed Telstra. Andrew Vesy has defiantly said, after Turnbull shirtfronted him about lowering the price of electricity:
AGL chief executive Andy Vesey declared yesterday he has no intentions of going anywhere, playing down speculation of an early exit as he delivered a threefold surge in annual profit to $1.6 billion fuelled by high wholesale electricity prices. Mr Vesey said he had a three-year plan that he intended to deliver on.
Source: News Corp
Andy Vesey to stay put as AGL profits from power prices
"I am here today, I plan to be here tomorrow," Mr Vesey said.
"I have laid out a 36-month strategy that I am committed to. I have got plenty of work here and for me it is head down and just get on with it. I have no intentions of going anywhere."
The comments from Mr Vesey follow growing speculation that the expat American energy veteran would be replaced after clashing repeatedly with the government over high energy prices and the company's plan to close its Liddell coal fired power station and replace it with a mixture of gas, pumped hydro, batteries and wind and solar generation.
Adding fuel to the talk were comments by AGL chairman Graeme Hunt that the company had stepped up succession planning. Mr Vesey said this was part of the board's corporate governance responsibilities.
"The fact that it was announced in the annual report is just signalling that the board is taking its responsibility seriously," Mr Vesey said.
Mr Vesey, whose pay packet fell to $5.8 million from $6.9m in 2016-17, has become a lightning rod for the Turnbull government's attempts to drive energy prices lower.
He has clashed repeatedly with Malcolm Turnbull and Energy Minister Josh Frydenberg over plans to move from being the biggest carbon emitter in the country to a green energy leader by closing coal plants, including Liddell, and replacing them with competitively priced but variable renewable energy.
The government has mounted a sustained but so far unsuccessful campaign to force AGL to sell Liddell to a rival or extend its life beyond a scheduled 2022 closure date.
It has also accused AGL of profiteering over its 2016 sale of surplus gas to Santos's Gladstone LNG project. The gas ended up being exported at a time of tight supply and soaring prices for domestic consumers.
Mr Hunt said Mr Vesey had "no current plans to retire", but that as he approached the fourth anniversary succession planning was becoming more important.
"As such the board is increasing its focus on the development of internal candidates who may be suitable to succeed Andy, while maintaining an active view of potential external candidates," Mr Hunt said.
The comments came as AGL delivered a record net profit of $1.59bn for the year to June 30, nearly triple the $539m the company posted last year.
Underlying profit — a figure closely watched by investors — jumped 28 per cent to $1.02bn, fuelled by high wholesale electricity prices at a time of tight gas supplies and the closure of the Hazelwood and Northern Power stations.
Underlying earnings from wholesale markets — which includes AGL's generation businesses — surged by 35 per cent to $2.66bn even as generation volume was flat at 43,000 gigawatt hours.
But the higher wholesale costs curbed earnings in the consumer business, which is also facing intense competition for customers and saw the emergence of major competitors in Alinta Energy.
Mr Vesey said he was "optimistic" that the National Energy Guarantee would win support from state energy ministers meeting in Sydney today and that the outcome would have a bearing on future investment.
"We support (the NEG), we remain cautiously optimistic that it will pass, only because it is not clear what the alternatives are," Mr Vesey said.
"We believe that without it you are not going to see the continued level of investment, you are not going to see continued falling of those forward curves."
Mr Vesey said that the company was restricted from passing on lower wholesale generation costs to its retail business because it was also a vendor to other retailers and could be accused of predatory pricing.
Stripping out one-time items, including a gain from changes in the fair value of financial instruments, earnings for the year were 28 per cent higher at $1.02bn, the company said.
That was toward the top end of guidance of up to $1.04bn affirmed in February and ahead of analyst consensus earnings.
But the shares were hammered yesterday as AGL said it expected underlying earnings for the coming year would be level with 2017-18 at between $970m and $1.07bn, which at best would be largely flat.
AGL said wholesale prices had peaked and it was planning to cut $120m in costs from its customer business to help mitigate the impact of retail competition.
Shares in AGL slumped 4.1 per cent to $21.11.
AGL shares have been under pressure since peaking in 2016 because of investor fears about re-regulation of the electricity market, with the Australian Competition and Consumer Commission last month proposing a default tariff for electricity companies that analysts said could cost each of the big retailers $100m in revenue.
Macquarie analysts said AGL's move to provide $30m of relief for retail customers, including debt forgiveness and hardship programs, would mitigate the $148m of cost savings the company said it was aiming for in 2018-19.
Revenue rose slightly to $12.8bn, up from nearly $12.6bn for the full year last year.
The company declared a final dividend of 63 cents per share, partly franked, bringing the total payout for the year to $1.17, up 29 per cent on the prior year.
AGL has about $2bn in energy-supply projects in development or under study and has begun construction on hundreds of megawatts in new generation capacity.
"The most meaningful affordability issue that is going on at AGL … it's a $2.2bn investment in new supply," Mr Vesey said.
"We are recycling them (high prices) and putting them back into the market to help drive prices down and give that benefit to consumers, not just for six months, not just for a year, but for the long term."