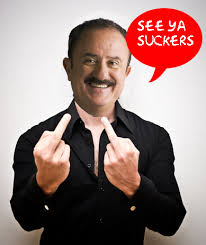 AGL's green push for greater profit
Quiz: how many Americans have galloped into town, created a disaster and run off with millions? See clue at bottom.
While Martin Luther King III was stirring the brothers in Tasmania, another American pest was hard at work screwing the nation with high priced electricity. Sharri Markson writing in the Daily Telegraph explains a few home truths about AGL's CEO Andy Vesey and his cozy little business.
AGL's greenhouse emissions have blown out by more than 5 million tonnes since American import Andy Vesey took over as boss, launching an advertising blitz promoting the company's green credentials. The energy giant is now the single biggest carbon polluter in the entire country, with more than double the emissions of the next highest emitter, Energy Australia. Yet this has not stopped Mr Vesey spending an estimated $23 million a year on an advertising campaign to rebrand AGL as a clean, green energy company.
Source: News Corp
AGL Energy is Australia's biggest carbon polluter but its marketing boasts so-called 'green credentials'
Energy Minister Josh Frydenberg said there was a big difference between the green-image it presents to the public and the actual size of its carbon emissions.
"Given AGL is by far Australia's largest emitter the gap between perception and reality is very large," Mr Frydenberg said.
"The reality of today's energy market is that fossil fuels are critical to the supply of reliable and affordable power.
"If companies like AGL are going to be truly transparent in promoting their green credentials, they should also tell consumers about the overall nature of their energy generating portfolio and the quantum of their emissions."
When Mr Vesey was hired to run AGL in February 2015, its emissions were 38.3 million tonnes for the 2014-15 financial year. But by the 2016-17 financial year, its greenhouse emissions had increased by 13 per cent to 43.4 million tonnes.
According to the Clean Energy Regulator, AGL was the biggest emitter in Australia, with Energy Australia coming it second with 21.7 million tonnes — half the emissions of its rival. AGL accounted for around 8 per cent of Australia's total emissions.
Two months after Mr Vesey took over as managing director and chief executive, he launched a new greenhouse gas policy that pledged to close all existing coal-fired power stations in its portfolio by 2050.
AGL said it would not extend the life of any of its existing coal-fired power and would not build, finance or acquire new conventional coal-fired power stations in Australia.
Asked why its emissions were increasing, an AGL spokesman said its emissions have increased following the "sudden closure" of other coal plants, which required theirs to run at a higher capacity.
"Due to the age of some of our generation plants this can't continue into the long term," he said.
"The closure of Liddell in 2022 will reduce our emissions as it's replaced by low emissions technologies, as described in our NSW generation plan."
AGL Energy has launched a marketing campaign to spruik its 'green credentials' while it takes the gong for the biggest carbon polluter in Australia.
But the spokesman would not comment on how much lower its emissions would be when Liddell closed.
In April last year, AGL announced its major green rebranding campaign in a statement to the stock market.
"Our brand campaign includes­ a TV ad which talks about … our ongoing commitment to investing in renewable­ energy," the statement read.
CLUE: There must be plenty of people wandering the halls of Canberra wondering what they were thinking when they allowed $10 million-a-year man Trujillo to be the Telstra face for the final share sell-down.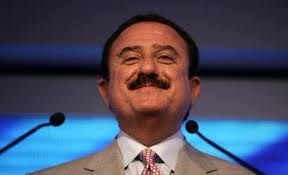 This isn't the first time this sort of thing has happened. Henry Lawson smoked them out a hundred years ago.
They come to learn us cricket in the days of long ago,
An' Hanlan come from Canada to learn us how to row,
An' 'doctors' come from 'Frisco just to learn us how to skite,
An' 'pugs' from all the lands on earth to learn us how to fight;
An' when they go, as like or not, we find we're taken in,
They've left behind no larnin'—but they've carried off our tin.