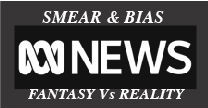 07.05.19.
If anyone knows the inner workings of the ABC it has to be Maurice Newman. Although the new boss Ita Buttrose has newly taken up the position, outside observers are not holding their collective breaths for the overt and blatant bias to be addressed. And Why? Because the ABC is adamant that no Leftwing bias exists—so what is there to be addressed?
How many times must we be reminded that there is no bias at the ABC? If that's true, why, ­according to former long-serving employee and staff-elected director Quentin Dempster, are "forces at work in our country" out to ­destroy it?
Source: News Corp
Forces from within are destroying the ABC
MAURICE NEWMAN
Well, we know who they aren't. Political support for the national broadcaster comes overwhelmingly from one side of the philosophical divide. Indeed, the ABC has a formidable army of organised supporters including, GetUp, the Greens, the Labor Party and Friends of the ABC. They rent billboards proclaiming: "Don't lose your ABC this election day. Vote to protect the ABC." These organisations are transparent in their political and social ambitions and see the ABC as a close ally. That's why they ­fiercely defend it and campaign to have Sky News "after dark" run out of town.
The truth is that the mantra that "there is no bias at the ABC" is a myth. It is a lie, repeated over and over in an effort to hide the reality that the ABC is a left-wing sanctuary. How else to explain its obsessive, often fanciful, coverage of US President Donald Trump, its ­unceasing apocalyptic views on climate change, its superficial one-sided commentary on immi­gration and identity, its anti-business mentality and hostility towards the Catholic Church? Even ABC Kids feels compelled to rap a lesson on white male ­privilege.
These are not partisan observations. Nor are they academic. After all, taxpayers spend more than $1 billion a year on the ABC and its 1983 act requires the board "to ­ensure that the gathering and presentation by the corporation of news and information is accurate and impartial according to the recognised standards of objective journalism". ABC defenders may claim that standards have changed but unless they are relying on the Humpty Dumpty ­defence that a word "means just what I choose it to mean", the obligations haven't changed.
The reality is that the ABC sees ­itself as a counter to the Murdoch media. Many within the corporation see Rupert Murdoch as the devil incarnate. Comments in News Corporation outlets critical of the broadcaster are a plot to ­defund a competitor. Dempster blames Murdoch for "perpetuating an in-built media imbalance".
Emphasising this, in an interview with former managing director Mark Scott, veteran ABC presenter Jon Faine complained about the (right-wing) partisan ­nature of Sky News and its influence in Parliament House. He rejects plurality of opinion because broadcasting some of the views aired on Sky would be like "we've heard from Anne Frank, now let's hear what Hitler's got to say".
It is this slippery ideological slope that has seen the ABC ­become an unabashed campaigner for radical environmentalism and globalism. As a climate change activist, the ABC is without peer. Its religious belief that ­humans cause catastrophic global warming is summarised in a sticker distributed to all staff urging them: "Shut down your PC ­before you go home to reduce CO2 emission (sic)." However credentialed, contrary views on climate change are not tolerated.
The ABC has also become a spear-thrower for the animal rights movement. Four Corners picked up a theme popular among American animal rights activists that seeks to ban greyhound racing. It alleged widespread animal cruelty involving Australian livestock exports. Its science program Catalyst broadcast a segment critical of beef consumption and its ­impact on climate change, the ­environment and health. Viewers were encouraged to consider ­insects as a future source of protein for humans. Vegan protesters now invading farms and disrupting traffic no doubt thank the ABC for these brainwashing sessions
Now the ABC has inserted ­itself into the election campaign with a program timed to derail the election prospects of the Left's hate ­figure, Pauline Hanson, and her One Nation party. An Al ­Jazeera expose, How to Sell a Massacre, is a sting three years in the making, employing hidden cam­eras to ­record One Nation's ­unsuccessful attempts to solicit foreign funding with the aid of the National Rifle Association. As Al Jazeera's executive producer is a former ABC employee, Pauline Hanson is entitled to ask whether Australia's national broadcaster collaborated in this production.
And Australians should ask how the ABC justifies links to an organisation that uses hidden cameras, is anti-Semitic, hosted a party for newly freed arch-terrorist Samir Quntar, and was allegedly involved in corrupt practices to win the rights to the 2022 soccer World Cup. Indeed, after the ABC's strong stance on offshore detention and marriage equality, it beggars belief that all connections with the propaganda arm of a government that funds terrorism, condones human trafficking and forced labour and punishes homosexuality and adultery with stoning and imprisonment weren't pulled long ago.
But no. The ABC employs double standards so Labor, the Greens and the unions won't have to worry that their close ties to GetUp and its access to substantial foreign donations will be exposed.
With no pressure on accountability, ABC activists will pursue their political ambitions at will. Should any politician, chair or board challenge their partisanship, they will be met with the usual sophistry, arguing editorial independence, responsible management and compliance with statutory obligations.
But a lowly 46 per cent employee engagement score, down six points from 2015, is signalling a different story. At a time when audience numbers are slumping, the staff see an organisation lacking good governance and a viable operating purpose.
The just-appointed managing director, David Anderson, has spent his life at the ABC. He is a popular figure, steeped in its culture and unlikely to bring about necessary change. This means the forces at work who Dempster claims are "out to destroy the ABC" will continue to come ­mainly from within. They are the influencers who have captured the corporation and put it on an ­unsustainable financial and ideological trajectory.
Maurice Newman was ABC chairman from 2007 to 2012.