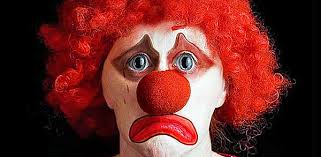 The ABC: you couldn't invent such mismanagement  madness!
Talk about sending in the clowns.
There seems little doubt in the minds of millions Australians that the $1.1 billion taxpayer funded ABC is on a suicide mission as it takes yet another cyanide pill in the form of Pirate Pete FitzSimons. What a breath of stale air the animated Pete will bring to the Foreign Correspondent program now to be cursed with a foreign body!
Fresh from axing about 22 newsroom journalists to hire new digital staff, the ABC has hired highly paid Fairfax Media columnist Peter FitzSimons to be a guest reporter on Foreign Correspondent.
Source: News Corp
ABC employs celebrity after axing 22 newsroom journos
The guest role comes after ABC news director Gaven Morris said in response to a government funding freeze: "Make no mistake, there is no more fat to cut in ABC news. From this point on, we're cutting into muscle."
Next Tuesday, FitzSimons travels to New Zealand to report on the 1300 Kiwis that Australia has deported over the past three years under changes to the Migration Act that permit the deportation of non-citizens with criminal records.
FitzSimons said he had donated his payment from the ABC to charity.
"They paid me bugger-all and for what it's worth I donated every cent to charity anyway — The Footpath Library, which gives second-hand books to homeless people," he said.
The story is a hot news topic as the policy has become a source of tension between the two countries, with New Zealand Prime Minister Jacinda Ardern raising it when she visited Australia in May.
At the time Malcolm Turnbull said deportees had the right to appeal. "This is in accordance with Australian law, and the process is a fair and just one," the Prime Minister said.
In Foreign Correspondent, FitzSimons interviews Immigration Minister Peter Dutton, who said New Zealanders were getting overly emotional about the changes. "We just need to see the evidence instead of the emotions. They're New Zealand citizens, they're not Australian citizens. And it's no breach of human rights," Mr Dutton said.
The program points out that New Zealand ejected only nine Australians over the period and quotes lawyers predicting that 15,000 New Zealanders out of the 500,000 resident in Australia could be forced to leave over the next decade.
The program tracks down one deportee, Anthony Miller, who has rebuilt his life in New Zealand and runs a small business.
"Look at you. In Australia you're in prison, you're a drug dealer, you're scum, we hate you and we send you back in handcuffs. Here, you're in the sunshine employing 15 blokes, you're making a fortune. Maybe the Australian law's done you good," FitzSimons tells Miller.
From next year, the ABC will lose $84 million over three years after the government announced in the budget that it would freeze indexation on ABC funding from July 1 next year.
But the ABC, which has been committed to increasing its programming budgets and cutting its bureaucracy, has boosted the budget of Four Corners, adding four episodes a year, in an undisclosed budget increase.
The ABC said Foreign Correspondent had used many guest presenters, including FitzSimons.
"He was commissioned for a one-off program for a standard fee within the program's normal budget and donated his fee to charity."