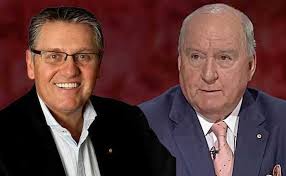 08.10.19.
The media company Nine has now purchased near total control of its operation that includes Macquarie Media in which broadcaster Alan Jones has a one per cent share. In August Macquarie CEO Adam Lang muttered that Jones and Hadley should be shoved out to make way for younger and more left-wing voices. If Nine intends to fill the airwaves with Leftist babble from where will conservative views come? There is a sizable market for conservative listeners and their advertisers. A new conservative radio station? Another arm for Sky News?
Veteran investor Mark Carnegie believes in the power of radio, but has told The Australian the time was right to sell out to Nine. His comments came as Nine moved past a 90 per cent stake in Macquarie Media on Monday, allowing it to forge ahead with compulsory acquisition of the radio station owner's remaining shares. Mr Carnegie said he had "no option" other than to sell out at the $1.46 share price.
Source: Lilly Vitorovich, News Corp
Mark Carnegie sells stake, paves way for Nine to control Macquarie Media
"I think it's going to be a great deal for Nine, but we didn't have any other options," Mr Carnegie said.
"I think radio is a really, really powerful medium. I think news talk radio is a particularly powerful medium and I think it fits well with Nine."
Mr Carnegie's decision to offload his stake in Macquarie Media, which is home to Alan Jones and Ray Hadley, saw Nine's voting power increase to 92.80 per cent.
It came just weeks after advertising veteran John ''Singo'' Singleton offloaded his 32.2 per cent stake.
Mr Jones, who owns 1 per cent of Macquarie Media, was also expected to accept Nine's offer, which expires on October 14, according to Mr Singleton.
Nine inherited its controlling 54.5 per cent stake in Macquarie Media, which owns stations 2GB, 3AW, 4BC, 6PR and Macquarie Sports Radio, as part of its $4bn merger with Fairfax Media in December, and needed to get to 90 per cent to secure full control of the broadcaster.
However, its $1.46 a share offer was at the bottom of an independent expert's report value range of $1.44 to $1.66 a share,with influential fund manager Geoff Wilson demanding a better deal for minority shareholders.
Wilson Asset Management, which holds a 4.7 per cent stake in Macquarie Media, has been agitating for a higher bid, with Mr Wilson recently writing to Nine boss Hugh Marks and Macquarie Media's three independent board committee members demanding a better deal for minority shareholders.
Mr Wilson on Monday told The Australian Wilson Asset Management was awaiting a response from Macquarie Media's independent board committee and independent expert PricewaterhouseCoopers to chairman Mr Wilson's second letter, which raised several concerns about Nine's target statement.
"We are awaiting the reply from the IBC and independent expert to our letter," Mr Wilson told The Australian after Mr Carnegie's decision to offload his stake. "On our analysis it appears the target statement may be defective. Once we have all the facts we will make our decision."
A Nine spokeswoman declined to respond to Mr Wilson's comments.
Meanwhile, Mr Marks said the group is "very pleased to reach this milestone", as management looks to consolidate its position across television, digital, print and radio.
"We believe strongly in the power of the talk-radio network and the ability, dedication and professionalism of its people," he said in a statement.
"To the Macquarie team for now it is business as usual. As we move through the final stages of completion of the transaction, I look forward to working with the team. We will work to ensure they have the support, infrastructure and clarity to be able to do what they do best."
Nine's $1.46 a share offer values Macquarie Media at $275.4m, with Nine paying $113.9m for the remaining 45.5 per cent stake.
Nine said the acquisition would be funded from cash reserves and existing debt facilities, and forecasts synergies of more than $10m, "mainly from combining support and administrative functions, and taking out some corporate costs such as ASX listing fees". The deal is tipped to be completed by the end of the year.
Nine has also sold three Fairfax Media businesses, selling its 75 per cent stake in weather information group Weatherzone to US-based analysis firm DTN for an undisclosed sum last week.
The company, which is chaired by Peter Costello, has carved up the events business inherited from Fairfax, and offloaded its regional publishing operations, Australian Community Media, to Antony Catalano and Alex Waislitz's Thorney Investment Group for $125m. However, Nine is struggling to sell its operations in New Zealand, also inherited from the Fairfax deal.
Mr Carnegie also holds a 10 per stake in Manboom, a signage firm operating around Sydney Airport, along with property developer Robert Whyte and Mr Singleton, who hold 50 per cent and 30 per cent stakes, respectively. The rest was owned by a few other people, he said.
He owns a 27 per cent stake in group discount website One Big Switch, through his fund M.H. Carnegie & Co, along with News Corp, the publisher of The Australian.