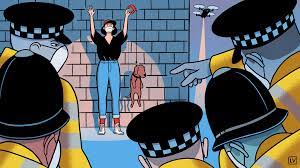 25.07.21.  
The pandemic has addled the brains of our leaders as they quickly become self-important dictators in their segregated realms, making a lie out of the song, "we are one!" As declared by top coppers making threats into media cameras, law enforcement is now consolidated to a comprehensive 'manhunt' for Covid scofflaws. Each state already has its own police force. But given that maximum resources are now being mustered to catch people without masks and breaking any other of the countless laws to bring Covid criminals to heel. Perhaps the day has come to recruit a parallel squad of 'flying' Covid Cops that is solely Covid bound with unlimited "manhunt" powers?
NSW Police will spend hours combing through footage of Saturday's "freedom" rally to identify about 3500 protesters who flouted health orders and ran riot across the Sydney CBD over the course of three hours, resulting in more than 50 arrests.
Source: Rhiannon Down, News Corp
Sydney 'freedom' protesters condemned, as police begin search for rule-breakers
A crowd which quickly grew to outnumber police gathered at Victoria Park at midday before spilling through the suburban streets of Chippendale and marching to Town Hall and back, bringing traffic on Broadway and George St to a standstill.
Police clashed with protesters leading to 57 arrests and 90 fines being issued, with riot squad officers on foot as well as traffic control, dog and mounted units finally surrounding the group when they reconvened at Victoria Park before dispersing.
Protesters, the majority of whom were not wearing masks, waved Eureka and Australian Red Ensign flags and brandished signs with anti-vaccination and anti-lockdown slogans, while chanting cries of "freedom" and "Aussie, Aussie, Aussie".
Several people were arrested as thousands of anti-lockdown protesters took to the streets of Sydney's central business district on Saturday, July 24. This footage, released by police, shows protesters clashing with mounted police officers. Demonstrators were marching in response to COVID-19 restrictions, which were in put place across More
NSW Police Minister David Elliott slammed the protesters as "selfish boofheads" warning that it had the potential to become a superspreading event.
"It will only take one person with Covid-19 to turn to today's event into a superspreader, so decent-minded Australians have every right to feel infuriated at such selfish behaviour," he said.
Deputy Commissioner Mal Lanyon said on Saturday night that special task force Strike Force Seasoned had already begun the work of identifying those who attended the protest.
"Our officers have already started to identify attendees and will continue for as long as required to identify and prosecute all those who broke the law today," he said.
A group of four protesters told The Australian they had travelled from Sydney's western suburbs to "fight the patriarchy".
"We're fighting for freedom, and the patriarchy are not taking over," one woman in the group said.
"They have made it impossible for us to do anything without silencing us. It's unorthodox."
A man dressed in high-vis and a hard hat, who refused to give his real name, told The Australian he was a construction worker who had been stood down during the two week shut down.
"I need to work, I need to feed my family and pay the mortgage," he said. "Trust me, there are more of me."
Another man with knuckle tattoos and waving a Eureka flag said he was protesting because he believed the pandemic was a hoax.
"We're completely f..ked right now, none of this is law, none of these are real rules or anything we're facing," he said.
"It's completely made up media hysteria, is there a test that tells you about the Delta variant, (do we really know how) are they testing the Delta variant."
Several protesters wore Guy Fawkes masks, while others carried signs with images of Donald Trump, or conspiracy theory slogans including one which said: "ABC News is Zionist propaganda".
"This is Gene Therapy not vaccine," one sign said.
Another said: "We're not anti vaccine, we're pro choice".
"There is no virus, it's a hoax," one man said, when asked by The Australian why he was protesting on Saturday.
"The carbon dioxide is worse (than the virus)."
"You need to go and do some science lessons," his female companion said.
A woman climbed on a roof opposite Town Hall holding a sign saying, "No NWO (New World Order) we won't be manipulated because of lies or false statistics", which was met with cheers from the crowds.
Some activists in the convoy shouted to passers-by to "join us", while others declared: "This is for you".
The protest came to a head at Victoria Park at about 3pm with police encircling a group of devoted rule-breakers, pouncing on those who refused move on orders and cuffing them.
Protesters threw sticks at police breaking out into spontaneous choruses of the national anthem before spilling onto City Road.
A man in a white T-shirt who was walking three large pit bulls on leashes shouted abuse at police and said that "people have been fighting this fight for decades", while others called to the cops to "join us".
The man was later seen being arrested and hurled into a divvy van, with one police officer leading his dogs away.
Authorities had earlier this week urged residents in Sydney, Melbourne and Adelaide to abide by health orders and stay home.
Anti-lockdown activists circulated plans for a "Sydney CBD takeover"on social media and encrypted messaging apps, the event tying in with multiple protests in other major capital cities including Melbourne on Saturday as well as overseas.