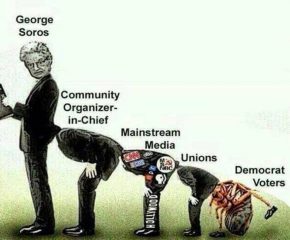 Money can't buy everything. Ask New York billionaire and former Nazi collaborator George Soros. He poured millions of dollars, along with other like-minded donors attempting to buy would-be touchy-feely progressive prosecutors in California.
California elects its sheriffs, and DA's, and judges. Sometimes they are those who are supported by one of the two parties.
Obama realised the power in appointing choosing which laws to enforce was perfectly in line with his idiotic dreams and the US got an AG and Department of Justice head who said essentially that the first question to be looked at is whether he is white.
California follows his lead. But…
Soros' attempt to reshape California's criminal justice system with far-left leaning candidates in the just finished midterm election, took a decisive hit with most suffering crucial loses.
Soros is well known, he is an 87 years old mogul, is reputed to be worth in excess of 25 billion dollars, and he is currently spending untold sums in support of far left organizations and radical progressive causes, and backing candidates in the golden state State running for DA, who favor lower incarceration rates, crackdowns on police misconduct and a bail system that doesn't discriminate against the poor.
However, a former Los Angeles DA, Steve Cooley, interviewed recently by the Los Angeles Times, had a different take on the Soros backed candidates commenting: "These people who want to create their own social policy are not worthy of the office."
He was right.
Cooley was on target in San Diego County with the candidacy of Soros backed Geneviéve Jones-Wright, who attacked the policies of her conservative opponent for "criminalizing poverty."
Soros reportedly spent well over 1.5 million dollars in propping up Wright through a political action committee – a PAC. However on Tuesday, the voters spoke at the ballot-box and Wright was easily defeated by the incumbent, Republican District Attorney Summer Stephan who captured over 64% of the vote, to Wright's 36%. A margin of about 28% when the final numbers are tallied
In another Soros backed match-up, Republican Anne Marie Schubert defeated Democrat Noah Phillips by a nearly 2-to-1 margin, getting 65% of the vote. Phillips like Wright also ran a negative campaign targeting Schubert for failing to prosecute a police officer who shot a civilian. However, Phillips fudged a bit on the details of the shooting. The "civilian" was an armed robbery suspect who refused to drop his weapon.
An eyewitness to the shooting described the confrontation stating at the time; "The suspect stopped running and there was a confrontation between the suspect and the officer. The suspect refused to comply with the officer's orders, at which point the officer not only fearing for his safety but for the safety of others fired his service weapon striking the suspect."
Soros funded that campaign to the tune of over $400,000 and was personally involved with assisting in the production and scripting of ads.
After her decisive win over Phillips, Schubert expressed her appreciation to the voters saying; "This is a good day for the people. You can't buy an election in the county of Sacramento. Here's to four more years."
Moreover, the wife of Facebook co-founder Dustin Moskovitz contributed more than $650,000 to a political action group led by another Soros backed group "Black Lives Matter" along with black activist Shaun King.
Perhaps the biggest surprise emerging from "La-la land" is just how savvy voters are in choosing candidates. For example, in counties where wealthy progressive donors poured money in support of their candidates, places like Yolo County, Riverside County, and San Bernardino County, those candidates were easily defeated. Which suggests California isn't as progressive as advertised.
In fact, there's a growing rebellion taking place with over a dozen municipalities and communities in California joining forces with President Trump's lawsuit against the governor's unconstitutional sanctuary law, prohibiting ICE agents from enforcing federal immigration laws, endangering both law enforcement agents and the community at large.
Is it because knowing Soros is behind it, or is it because Trump is in the ascentdant? Both, maybe?
This rebellion partly explains why Soros and his progressive colleagues concentrate on California and spend untold millions of dollars in their attempt to change the criminal justice system. They didn't need to before when President Bollocks called the shots.
Perhaps another reason is that Trump's immigration policies are biting hard. The cops and border patrols are catching and returning but if illegals can make it into LA it is down to prosecutors. If the prosecutors don't prosecute, they can go free to suck on the welfare teat.
And even in the land of fruits and nuts, that stinks.