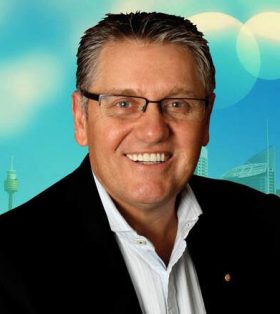 25.07.21.  
Ray Hadley has been pounding the airwaves for a long time. And like his once stable mate Alan Jones such commentators of the conservative flavour amass influence. As witnessed by most veteran 2GB listeners the station has veered Left. The ineffective Ben Fordham has not performed as expected with his boring play, thus attracting the term, "Ben Boredom!" Jones, the ultra conservative has departed 2GB and Hadley has become a bit too much 'full of himself'. Given another suing is in the offing one must wonder about Mr Hadley's future at the station that doesn't seem to know what its dwindling audience wants! "Go Woke, go Broke!"
NSW racing chief commissioner Alan Brown is suing Sydney radio giant Ray Hadley and 2GB for defamation over a series of on-air segments he alleges portrayed him as a liar who was "callously ­indifferent" to bullying claims that had been raised by a well-known chief steward at the Greyhound Racing Integrity Commission
.
Source: Kieran Gair, News Corp
Racing chief Alan Brown sues 2GB over 'bullying' claim
Mr Brown, the chief commissioner at the NSW Greyhound Welfare and Integrity Commission, has claimed he was defamed by 2GB, controlled by Nine Radio, during an interview in July last year in which he was accused of suffering a memory "lapse" over claims Gail Thorsby had quit the agency due to bullying.
In a statement of claim settled by high-profile defamation silk Bruce McClintock, SC, Mr Brown argues he was defamed in five separate segments — broadcast between July last year and May this year — in which Mr Hadley suggested he was lying after he denied Ms Thorsby had resigned over workplace bullying.
It is also alleged Mr Brown was portrayed as "callously indifferent to allegations of bullying against a senior female employee" after Mr Hadley suggested during the ­interview that "it's hard enough for a woman to be promoted" to a senior position in racing and that to "have her go in these circumstances is just not right".
Mr Brown's lawyers allege the segments defamed their client in five ways, including by suggesting he had "lied" about being informed by Ms Thorsby that she had been bullied. In two segments broadcast in July and September last year, Mr Hadley again addressed the bullying allegations raised by Ms Thorsby in interviews with NSW Innovation Minister Kevin Anderson and One Nation MP Mark Latham.
In the July 23 interview with Mr Anderson, Mr Hadley said the Greyhound Welfare and Integrity Commission had lost a "very capable woman" who was bullied "out of the job".
In support of his view, he said Mr Brown had been "told" about the allegations and that the ­integrity chief was "on very dangerous ground" because he had "sources" and "documents" that would back Ms Thorsby's bullying claim.
It is further alleged that Mr Hadley defamed Mr Brown by suggesting that the integrity chief had "lied" to staff at the Greyhound Welfare Integrity Commission in a statement on July 28 that said Ms Thorsby "had never mentioned to Mr Brown that she was bullied when she worked for the GWIC".
Mr Brown alleges the "hurt and harm" caused by the segments has been aggravated by the "falsity of the imputations" and Mr Hadley's "repeated attacks" on the racing integrity chief "over many months". "The applicant has been greatly injured and his business, personal and professional reputation has been, continues to be and will be brought into public disrepute, ­ridicule and contempt," Mr Brown's lawyers argue in court documents.
Mr Brown is seeking damages, including aggravated damages, and an order that 2GB remove the segments from its website. He is also seeking interest and costs.