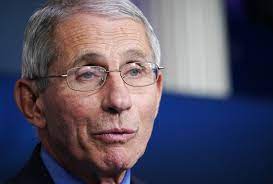 20.09.21.  Donald Trump has accused his former top medical adviser Anthony Fauci of staying silent in Oval Office meetings at the start of the Covid-19 pandemic about the risky research under way at the Wuhan Institute of Virology his agency had funded. In a Sky News documentary to air tonight, the former US president said he would grade Fauci "D" as a doctor and said it was "ridiculous" he funded coronavirus research in Wuhan at the lab where he believes Covid-19 leaked to spark the pandemic. "They were even making payments for certain kinds of research. Certain payments and I ended that, I stopped that when we found out about that," Mr Trump says in his first Australian interview since becoming president in 2016.
Source: Sharri Markson, NCA
Donald Trump blames Anthony Fauci for staying silent over Wuhan laboratory funding
"He (Fauci) was doing that during the Obama years and when I found out about it, I said: 'Can you imagine that the United States is making payments to a Chinese lab?' Just that on its face didn't make sense, but I stopped that.
"It sounded so ridiculous to me that we were giving money to China and especially when I heard it was going to the lab, and we ended it quickly."
The former president makes the allegations against Fauci, his former top medical adviser on the coronavirus, in the documentary, based on the new book, What Really Happened in Wuhan. Mr Trump makes bombshell claims about some of the intelligence he saw that convinced him the virus escaped from a Wuhan laboratory.
He also speaks about China's cover-up of Covid-19 and the World Health Organisation's culpability for the global spread of the virus, as director general Tedros Adhanom repeated Beijing's denials Covid-19 was capable of human-to-human transmission.
As Mr Trump's top medical adviser on the coronavirus, Dr Fauci was in his inner sanctum and present for every meeting on the virus as it started to spread globally.
Mr Trump said Dr Fauci never once told him the Wuhan Institute of Virology was genetically manipulating coronaviruses.
"Well, no he didn't," Mr Trump said. "Anthony's been in government for many, many years, is a bureaucratic kind of a guy, a very great promoter. I give him an A-plus as a promoter and probably a C or a D as a doctor or a scientist."
As he shielded the president from the fact America had been funding coronavirus research in Wuhan, Dr Fauci publicly insisted Covid-19 came from an animal.
Only in the past few months has Dr Fauci acknowledged the possibility Covid-19 may have originated at the Wuhan institute, although he now claims he always had an open mind.
A probe ordered by President Joe Biden found human contact with an infected animal and a laboratory leak were plausible explanations for the origins of the virus. The US intelligence community remains divided on which is the more likely explanation for the pandemic.
In further comments not in the documentary, Mr Trump even accuses Mr Biden of potentially playing a role in funnelling money through to China for bat research.
"I didn't like the idea that we were funding China for anything and that's basically why I cut it off," Mr Trump says.
"This was started with Obama and I guess you could say Obama/Biden, but perhaps Biden didn't really figure out what was happening. Who knows? But this was during the Obama administration."
Mr Trump refuses to accept any responsibility for the ban on gain of function research, introduced in the Obama administration, was lifted under his watch.
Dr Fauci has admitted he funded coronavirus research in China to avoid an outbreak in the US.
"It was incumbent upon us to study the animal human interface and to understand what potential these viruses have of infecting humans which then might damage the United States," Dr Fauci has said. "So you don't want to go to Hoboken New Jersey of Fairfax Virginia to study the bat human interface that might lead to an outbreak, so you go to China."
The research was undertaken at the Wuhan Institute of Virology, mostly under the direction of virologist Shi Zhengli. The US had no oversight of the activities in the laboratory and there was no transparency or accountability for how the funds were spent.
The laboratory has still not made its virus database accessible to health authorities or foreign governments after taking it offline on September 12, 2019.
The Wuhan Institute of Virology was built with the French government and was meant to be a centre of co-operation.
But from the moment it opened, the French were immediately kicked out. This raised concerns bioweapon research would be conducted at the new BSL-4 laboratory.
In 2015, Israeli bioweapons expert Dany Shoham analysed of China's bioweapons research facilities and specifically named the Wuhan Institute of Virology as a site of concern.
The US government was aware of safety concerns about the Wuhan laboratory from the American officials who visited it in 2017 and 2018. They said there were serious biosafety concerns, a lack of trained technicians and concerns about the type of coronavirus research they were doing to make it more infectious to humans.