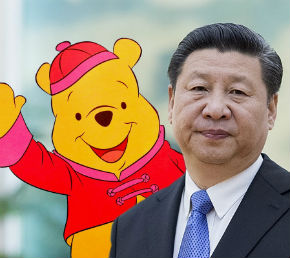 News continues to come about the disastrous blight on China and the world with its limpet adhesion to thorough communism.
Its communism is the exact same as the unadulterated version of Kim Jong Il – the Great Eastern Puddin' – murder, prison camps for politicians.
After the death of Mao and the end of his disastrous 27-year rule his successors pushed through a series of reform measures to ensure that Chinese history wouldn't repeat itself.
At the heart of these reforms was a provision that the Chinese "state chairman," or in other words the state leader, could only serve two five-year terms.
The system worked as intended for three decades. While China's human-rights record remained as bad as Stalin's and Hitler's, at least the cult of personality that grew around Mao never quite developed under his successors.  Until now.
Given the importance of China in the world's economy and on the global stage, its slide towards one-man dictatorship is troubling enough. But even more troubling is the kind of dictatorship Xi seems intent on creating.
Xi's subordinates and Chinese media have begun to refer to him as "lingxiu," a reverential term for "leader" not heard since the days of Mao Zedong. The German media translates lingxiu as "Führer."
The Communist Party proclaimed Xi as lingxiu last October. Since then, state organs have been using the honorific in ways that approach self-parody. In late February, a puff piece on Chinese television told viewers that the "People's lingxiu is loved by the people!"
Someone seems to be trying too hard.
But it's not just titles. The same Party Congress also enshrined Xi's political thought in the Chinese constitution. It's officially known as "Xi Jinping Thought on Socialism with Chinese Characteristics for a New Era."
That just rolls right off the tongue, now doesn't it?
This emerging cult of personality has even led to a ban on jokes about Xi resembling "the bear of very little brain."
To cut off dissent following the plan for President for Life, Chinese censors upped their game, keeping an even more watchful eye on anything online that could be deemed subversive.
Among the 'subversive' content was the English letter 'N,' which was apparently briefly censored. This was intended to "preempt social scientists from expressing dissent mathematically: N > 2, with 'N' being the number of Mr. Xi's terms in office."
The very images of Winnie the Pooh were blocked though the honey-loving bear was first removed from Chinese websites and social media networks in 2013, when the meme first went into circulation following a Chinese visit to the U.S. Internet users posted a side-by-side comparison of a photo of Xi and President Obama walking with an image of Winnie the Pooh and Tigger. Despite being a seemingly cute bear, Chinese censors are notorious for blocking any content that seems even mildly critical of the Chinese leader.
Under Xi, China has assumed a more aggressive posture towards its neighbors and the United States. Recently, China came close to a shooting war with India over a remote part of the Himalayas. And it's trying to turn the South China Sea into a Chinese lake.
The situation is even more grim for Chinese Christians. As the Washington Post reported, Christians in southern China were recently told that, "Jesus Christ won't drag you out of poverty or cure your illnesses, but the Chinese Communist Party will, so take down those pictures of Christ and put up a nice photograph of President Xi Jinping."
It was part of a campaign aimed at "melting the hard ice in the hearts of religious believers" and "helping turn them into believers in the party." By "the party" they mean Xi Jinping.
So what does all of this mean? Well, more crackdowns on house churches, and maybe even registered churches. There's little room for Christianity in "Socialism with Chinese Characteristics for a New Era." And as the Economist recently put it, everyone can go ahead and say that "the West's 25-year bet on China has failed."
Everyone except the lickspittles Turnbull and Shorten.
The belief that China would become more democratic as it became wealthier has proven false. Instead, "repression, state control and confrontation" is on the rise, again.
Of course, this comes as no surprise to Chinese Christians, they have been expecting it. They see what is happening to the Falun Gong and it's their turn next.
When it is understood that Communism only allows one God maybe the rest of us will catch up with reality.