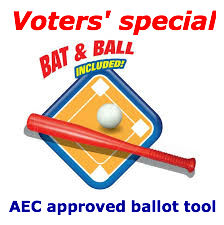 Who will you vote for on July 28th?
It's baseball bat time for angry voters—use it without mercy!
The answer is simple, or it should be! DO NOT vote for any of those re-contesting their seats! They are the sods that have cost taxpayers' millions because they chose to ignore Section 44 of the Constitution. Eligibility of 17 of the 48 candidates contesting the five by-elections on July 28 remain in doubt. They chose either not to complete new section 44 "qualification checklists" or did not give permission for the Australian Electoral Commission to publish them.
MORE than one out of three candidates in the upcoming by-elections have not revealed their citizenship backgrounds, including a prominent Liberal candidate, despite the critical polls being sparked by the dual-citizenship crisis.
Source: Courier Mail
Longman by-election: Voters to remain in dark on citizenship
Liberal candidate for Mayo Georgina Downer, daughter of former Howard Government government minister Alexander Downer, is one of 17 candidates to either fail to hand in a qualification checklist or consent to have it published.
The Courier-Mail revealed this morning that the citizenship declaration process had been made voluntary, despite the recommendations of a parliamentary inquiry recommending it should be a requirement on nomination, to restore integrity to the system.
According to the AEC records, Ms Downer has completed the form, but had not given permission for it to be published.
Just two of the 11 Longman candidates did not fill in the qualification checklist James Noonan of the Science Party and John Reece of the Australian People's Party.
Labor's Longman candidate Susan Lamb, whose resignation due to her former British dual citizenship sparked the by-election, has published documentation from the UK Home Office proving she has successfully renounced any foreign citizenship.
The LNP's Trevor Ruthenberg, who was born in PNG to Australian parents, states in his form the PNG Immigration Citizenship Authority that he was not a citizen of PNG.
He has not provided any documentation along with this, though the LNP has previously indicated it would.
Mr Ruthenberg's form indicates his parents and grandparents were all born in Australia.
OVERNIGHT: Candidates in the five by-elections sparked by the dual citizenship crisis will not have to reveal their own citizenship background to voters.
This is despite the recommendations of a parliamentary inquiry recommending it should be a requirement on nomination, to restore integrity to the system.
Senator Linda Reynolds who led the inquiry said making it mandatory would help to restore public confidence in the system, but only changing the constitution would prevent another citizenship scandal.
She also warned political parties or foreign powers could game the system by putting up candidates they knew were ineligible, to direct preferences and influence the outcome in marginal seats.
All candidates for the by-elections, including Longman, were revealed on Friday with their qualification checklist due to be published today.
But filling out the checklist, used for the first time following the inquiry recommendations, was optional and the AEC will not publish any citizenship details without permission.
It means the voters will not be able to check if all the candidates they are voting for qualify for parliament, despite 15 elected MPs or Senators having lost their jobs in the past year from the citizenship saga.
Senator Reynolds said she supported the action the Government had taken so far, given the short time frame, but making declarations mandatory would require a law change.
"It would help, but we have to think through the consequences," she said. "Just because you disclose, it doesn't mean you are immune to High Court disqualification. The only way to stop the situation happening is by a referendum, which we are not within cooee of being able to do."
There are 11 candidates standing in Longman, including Susan Lamb who sparked the by-election. Until recently she was a British dual citizen.