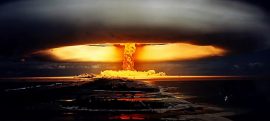 USA Vs North Korea: which will blink first?
The world, except the many Australians embroiled in gay marriage, is watching as developments deepen in what could become catastrophic. Kim Jong un and Donald Trump are about to face off and both can't win. Also complicating matters are the unknown intentions of South Korea, Russia, China and Japan. Australia will wave the rainbow flag and all will be well.
BRIDGEWATER, N.J. — President Trump refused to back down on Thursday from his provocative threat to rain down "fire and fury" on North Korea if it endangers the United States, despite bipartisan criticism — and he argued that perhaps he was not harsh enough.
Trump Toughens Warning on North Korea, Despite Bipartisan Criticism
Al Drago for The New York Times
"Frankly the people that were questioning that statement, was it too tough? Maybe it wasn't tough enough," he told reporters. "They've been doing this to our country for a long time, many years. It's about time that somebody stuck up for the people of this country and for the people of other countries. So if anything, maybe that statement wasn't tough enough."
Mr. Trump spoke at his golf club in Bedminster, N.J., where he is spending much of the month on a working vacation. He was meeting on Thursday with Lt. Gen. H.R. McMaster, his national security adviser, and other aides even as tension with North Korea continued to crackle with nuclear-edged bombast. While his advisers have tried to modulate his original comment, made on Tuesday in response to North Korean threats, Mr. Trump suggested he had no reason to back off.
"We're backed by 100 percent by our military," he said. "And we're backed by many other leaders."
Asked what would be tougher than fire and fury, Mr. Trump said, "Well, you'll see, you'll see."
But he declined to explicitly say he was considering a pre-emptive military strike.
"We don't talk about that," he said. "I never do." He added, "But I can tell you that what they've been doing and what they've been getting away with is a tragedy. And it can't be allowed."
Mr. Trump's war of words has reached a level that has alarmed allies in the region.
North Korea has reacted with threats of its own, warning that it might launch a missile strike toward the Pacific island of Guam, which is United States territory, as early as this month, and adding that it was capable of starting a nuclear war that might reach the continental United States. North Korea recently tested intercontinental ballistic missiles for the first time and has been reported to be making progress toward equipping them with nuclear warheads.
For all the bellicose words, Mr. Trump said on Thursday that he was open to negotiations, as Secretary of State Rex W. Tillerson urged North Korea to engage in talks. But the president expressed skepticism that they would lead to a reasonable outcome, given the experiences of his predecessors, Bill Clinton, George W. Bush and Barack Obama, none of whom were able to resolve the issue through negotiations.
"Sure, we'll always consider negotiations," Mr. Trump said. "They've been negotiating now for 25 years. Look at Clinton. He folded on the negotiations. He was weak and ineffective. You look what happened with Bush, you look what happened with Obama. Obama, he didn't even want to talk about it. But I talk. It's about time. Somebody has to do it. Somebody has to do it."
Mr. Trump's comments defied critics at home and abroad who have said his choice of words was needlessly bombastic and potentially reckless. While his predecessors also took a firm stance on preventing North Korea from developing a nuclear arsenal that could threaten the United States, they steered away from the sort of apocalyptic language evoking a possible nuclear war.
"These statements are irresponsible and dangerous, and also senselessly provide a boon to domestic North Korean propaganda which has long sought to portray the United States as a threat to their people," more than 60 House Democrats said in a letter on Thursday addressed to Mr. Tillerson, asking him to restrain the president.
Former President Jimmy Carter, who has visited North Korea three times as a private citizen, added his voice to the criticism.
"In addition to restraining the warlike rhetoric, our leaders need to encourage talks between North Korea and other countries, especially China and Russia," he said in a statement. "The recent U.N. Security Council unanimous vote for new sanctions suggests that these countries could help. In all cases, a nuclear exchange must be avoided. All parties must assure North Koreans they we will forego any military action against them if North Korea remains peaceful."
Mr. Trump has tried to convince China to do more to pressure North Korea to curb its weapons development, only to be disappointed that Beijing has not followed through as strongly as he would like. Many analysts have suggested that his fire-and-fury language was meant as a signal to China as much as North Korea, making the point that the Chinese need to step up to avoid a conflagration in its own region.
In his comments to reporters on Thursday, Mr. Trump again suggested he would make a bargain with China by backing down from his planned trade war if Beijing does more to resolve the North Korea impasse.
"I think China can do a lot more, yes, China can," he said. "And I think China will do a lot more. Look, we have trade with China. We lose hundreds of billions of dollars a year on trade with China. They know how I feel. It's not going to continue like that. But if China helps us, I feel a lot differently toward trade, a lot differently toward trade."