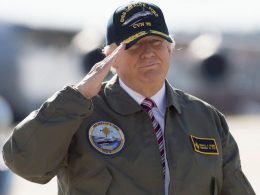 US midterms: perhaps the most viewed elections in history
The world has never seen such a controversial character in such a powerful position as Donald Trump. Trump was made out to be an unelectable joke—the polls agreed. Shock blanketed America (the Trump haters) and most of the interested world as Donald Trump claimed victory. It was a delicious scene on some US streets as many rabid Lefties threatened suicide—we don't know if any did. Anyway, these midterms are a test for Trump's popularity and the world is watching, including the stock markets which delight in anything that moves in any direction. The line ups are long and so is the wait with turnout high. More Democrat suicides in the streets we can only hope!
Americans are heading to the ballot box to determine the balance of power in the US Congress and shape the future of Donald Trump's presidency. Citizens began casting their votes early on Tuesday morning (around 9:00pm AEDT), following a divisive campaign marked by fierce clashes over race, immigration and other cultural issues. The first national elections since Mr Trump captured the White House in a stunning 2016 upset will be a referendum on the Republican President and his policies, and a test of whether Democrats can turn the energy of the liberal anti-Trump resistance into victories at the ballot box.
Source: Reuters
US midterms officially underway as Americans begin to cast their votes in divisive elections
As Mr Trump told supporters on Monday night in Fort Wayne, Indiana, at one of three rallies he held to stoke turnout on the last day before the election:
"Everything we have achieved is at stake tomorrow."
All 435 seats in the US House of Representatives, 35 US Senate seats and 36 governorships are up for grabs in elections focused on dozens of competitive races from coast to coast that opinion polls show could go either way.
Facebook and foreign interference
Facebook said it had blocked 115 accounts for suspected "coordinated inauthentic behaviour" linked to foreign groups attempting to interfere in the midterm elections.
The social media company shut down 30 Facebook accounts and 85 Instagram accounts and said it was investigating them in more detail.
We'll be sending breaking news alerts and more to our US politics subscribers on Facebook Messenger. Why not join them?
The company took action after being tipped off on Sunday evening by US law enforcement officials, who notified the company about recently discovered online activity, "which they believe may be linked to foreign entities", Facebook's head of cybersecurity policy Nathaniel Gleicher wrote in a blog post.
US tech companies are stepping up security and efforts to fight disinformation campaigns to prevent online troublemakers from trying to divide voters and discredit democracy.
Facebook's purge is part of countermeasures to prevent abuses like those used by Russian groups two years ago to sway public opinion ahead of the 2016 US presidential election.
Russian President Vladimir Putin's spokesman declined to comment on allegations of interference in the midterms.
"We cannot react to some abstract cybersecurity analysts because we do not know who they are and whether they understand anything about cybersecurity," Dmitry Peskov told reporters.
Russian foreign minister Sergei Lavrov added that accusations of Russian interference in the midterm elections were "empty statements".
Forecasts show Democrats could seize majority
Democrats are favoured by election forecasters to pick up the minimum of 23 House seats they need for a majority, which would enable them to stymie Mr Trump's legislative agenda and investigate his administration.
Republicans are expected to retain their slight majority in the US Senate, currently at two seats, which would let them retain the power to approve US Supreme Court and other judicial nominations on straight party-line votes.
But at least 64 House races remain competitive, according to a Reuters analysis of the three top nonpartisan forecasters, and Senate control was expected to come down to a half dozen close contests in Arizona, Nevada, Missouri, North Dakota, Indiana and Florida.
Democrats also threaten to recapture governors' offices in several battleground states such as Michigan, Wisconsin and Ohio, a potential help for the party in those states in the 2020 presidential race.
Voter turnout could be the highest for a midterm election in 50 years, experts predicted.
About 40 million early votes were likely cast, said Michael McDonald, a professor at the University of Florida who tracks the figures.
In the last such congressional elections in 2014, there were 27.5 million early votes.