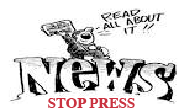 US Ambassador to UN Nikki Haley resigns
Oh yes, we can hear the Trump haters doing a jig with this announcement. Another key worker abandons the lunatic Trump before ending up in a psychiatric hospital, and worse. The truth is that Trump and Haley have been discussing the matter for about six months. Ms Haley feels she needs time off and who could blame her having to establish herself against the rats in the UN all trying to white ant her at every turn—Haley passed the test and earned respect—even it Trump did not!
US President Donald Trump has accepted the resignation of his United Nations ambassador Nikki Haley. Mr Trump said Ms Haley, who was South Carolina governor when he tapped her for the UN position, told him six months ago that she wanted to take some time off. Speaking to reporters in the Oval Office, he praised her as having done an incredible job and said he hoped she could come back to the administration in another capacity. Mr Trump said Ms Haley would be leaving her post at the end of the year.
Source: Reuters
Nikki Haley resigns as US ambassador to the United Nations
He described Ms Haley as a "very special" person "who gets it", and said together they had "solved a lot of problems".
Ms Haley said she had no immediate plans. She denied she was running for president in 2020, and said she would be campaigning for Mr Trump.
Mr Trump said there were a number of people who would like to take up the UN ambassador position, and that he would name her successor within the next two to three weeks.
Last month Ms Haley wrote an op-ed in The Washington Post discussing her policy disagreements but also her pride in working for Mr Trump.
It came in response to an anonymous essay in The New York Times by a senior administration official that alleged there to be a secret "resistance" effort in Mr Trump's administration, and that there were internal discussions about attempting to remove him from office.
"I proudly serve in this administration, and I enthusiastically support most of its decisions and the direction it is taking the country," Ms Haley wrote.
"But I don't agree with the president on everything."
As governor, Ms Haley developed a national reputation as a racial conciliator who led the charge to bring down the Confederate flag at the Statehouse and guided South Carolina through one of its darkest moments, the massacre at a black church.