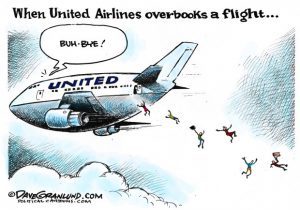 Useful safety tip –
Big Business doesn't care.
Qantas has a homosexual general manager. Nobody cares about how he gets his jollies so long as he heads the profit up. But this guy uses his position to promote political views like same-sex marriage and homosexuality generally.
Doesn't he care that 97% of his passengers are not homosexuals? Doesn't he care that Muslims abhor homosexuals so much that they throw them off buildings when there is no gallows handy? Doesn't he care that they might internationally boycott Qantas?
No. Because this is Big Business. And Big Business, particularly Airline Big Business, doesn't give a toss for the paying customer. All they do is promote a load of hypocritical bollocks about how nice their hostesses are and how much they care for passengers.
On April 9, in a story which flew around the world (so to speak), a 69-year-old doctor with a Vietnamese background, David Dao, refused to "deplane" on a flight from Chicago to Louisville, Kentucky. Why should he? He had paid for the flight. The plane was not over-booked, either. The company simply wanted to "reaccommodate" four paying passengers to accommodate four staff members.
Three big security guys dragged Dr Dao screaming down the narrow aisle. He suffered a concussion, a broken nose, a sinus injury and two missing teeth. There was blood on his face.
Oscar Munoz, chief executive of United Airlines, issued a brief apology. He said: "This is an upsetting event to all of us here at United, I apologise for having to re-accommodate these customers."
But in a private email to staff – promptly leaked to the media – Munoz was more defensive. It said: "As you will read, this situation was unfortunately compounded when one of the passengers we politely asked to deplane refused and it became necessary to contact Chicago Aviation Security Officers to help". It added that Dr Dao was "disruptive and belligerent" and that staff had "followed established procedures". Munoz congratulated the staff for "continuing to go above and beyond to ensure we fly right".
On April 11, however, he issued a wider ranging apology. Just as bloody hypocritical when you know about the private one. Also he is knee deep in a damages case. The jury will have something to say. And they will tell him, "When you apologise to a customer, sound like you mean it. Ten million bucks, please."
The apology eventually issued by CEO Munoz appeared heartfelt and genuine, but it was too late. The damage, across social media and in the press, has been done. For the next little while, at least, anyone choosing an airline in the US and seeing United's name will be reminded of the man with the bloody face – and that ghastly word "re-accommodated".
A bit like the "re-educated" you get in Communist China.
United should learn from rival Delta, which was once one of the best-known airlines in America, highly profitable and popular with customers. Then the culture at Delta changed, and customer service suffered. Customers switched to other airlines and Delta went bankrupt. Now, Delta is thriving again, in large part due to its focus on keeping both staff and customers happy.
Will the same thing happen to United? The damage could be serious, especially if there is another similar incident in the future. In the age of smartphones and social media, any misstep gets blown up and broadcast across the world.
Yet it is also highly possible that United will get away with it. Standards of service across the US airline industry are already low, and it probably won't be long before another scandal at another airline is splashed across social media, and the headlines.
In the meantime – Fly United? Not on your life. That man could have died if he had a dodgy pump.