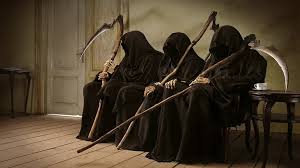 Is Turnbull in the foetal position yet?
Malcolm Turnbull must be wondering why on earth he had to have the prime ministership of Australia? Sleepless nights, achieving that haggard look, crushed ego, ridiculed and jeered at public events, and Tony Abbott—oh yes, that damned burr under the saddle. Abbott, the grim reaper hovering beside Mal's bed, honing its scythe on a whetstone, plotting. What goes around, comes around! And now, Bernardi and Hanson dressed as pallbearers.
Watch out Malcolm Turnbull and all eastern state Liberal Party leaders — Cory Bernardi is coming hunting for your members and your voters. The South Australian senator's Australian Conservatives will mark another milestone in their long march through the eastern states today with their ­formal registration as a political party in Victoria.
Source: News Corp
Bernardi building his power base
This adds to the Australian Conservatives' federal and South Australian registration. Plans for the party to achieve formal registration in NSW are well under way and will be followed by registration in Queensland, the Northern Territory and Tasmania.
Most states have made it more difficult to achieve formal registration as a political party.
This makes it harder for micro-parties with catchy names and very little real community support to game the system by exchanging preferences with a vast array of other, similar micro-parties.
Some four weeks ago the Australian Conservatives gave the Victorian Electoral Commission a list of more than 500 active members in Victoria.
The registration involved the VEC writing to these people and accepting their bona fides only after it received replies. There was also a process of follow-up phone calls with some party members to authenticate their membership.
This process was completed in three weeks and a week had to elapse in case any group wanted to register a complaint against the new party's name.
Senator Bernardi believed the Australian Conservatives would be one of likely only 14 political parties registered to contest next year's Victorian election.
Senator Bernardi said his party had about 2500 members in Victoria. Its total national membership was approaching 13,000. Each member pays a $25 fee and there are no discounted or free memberships.
"We know we've got a long way to go but in five months we've made remarkable progress," Senator Bernardi said.
Most Australian political parties would regard the recruitment of an extra 13,000 financial members in five months as an astronomical achievement.
"Our youngest new member in Victoria is 15 and our oldest new member will be 102 next month," he said. "She wrote to us and said I live in a nursing home, I've never joined a political party before but I can see we need to make some changes. It's wonderful that someone like her wants to make a contribution and it's wonderful that we are attracting young people too."
The Australian Conservatives have four MPs — two former Families First members in the South Australian parliament, plus Rachel Carling-Jenkins in the Victorian parliament who recently left the Democratic Labor Party to join the Australian Conservatives, and Senator Bernardi himself.
The party has a headquarters in South Australia that for the moment is staffed by volunteers. "We are experiencing all the problems of a start-up in a rapid growth phase," Senator Bernardi said. "On Monday morning there might be 3000 emails waiting in our office and they will all need to be answered."
Senator Bernardi is careful to be precise and conservative in announcing membership figures.
More than 100,000 Australians have given their email address to the Australian Conservatives. They receive material from the party and many have made donations. But Senator Bernardi counts as members only those who have signed up for formal membership of the party and paid their first year's annual dues.
It is by no means unlikely that the party will recruit more members of parliament to its ranks before the Victorian and South Australian elections next year and the NSW election the year after, while timing for the Queensland election is uncertain.
The increasingly onerous party registration requirements in each state provide a strong incentive for the mainstream centre-right forces beyond the Liberal and National parties to come together.
The Australian Conservatives' initial target of potential voters is 10 or 15 per cent of centre-right voters who are uneasy about the Liberal Party in its current state but also might have serious reservations about voting for Pauline Hanson.
Senator Bernardi believes he has a strong pitch to make to business as well: who do you want to have the balance of power in the Senate, the Greens, Nick Xenophon, Pauline Hanson or the Australian Conservatives?
Senator Bernardi also has big meetings planned in the eastern states that are members-only events and have been sold out with 500 or more attendees.