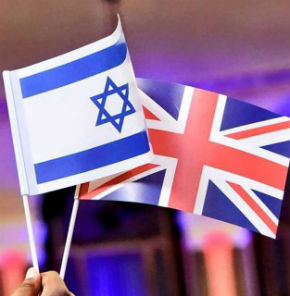 Prince Philip's mother, Princess Alice of Greece, was recognised as "Righteous Among the Nations" and made "A Hero of the Holocaust" by the Brits for sheltering a Jewish family in her Athens home during the Holocaust, and was buried on Israel's Mount of Olives. But Philip was not allowed by the Foreign Office to visit her grave until 1994, and then only on a private visit.
Princess Alice is obviously Prince Charles' grandmother. He was only able to sneak a private visit and put flowers on her tomb when the world came to the funeral of Shimon Peres.
Her Majesty the Queen has made over 250 official overseas visits to 129 different countries during her reign, neither she nor one single member of the British royal family has ever yet been to Israel on an official visit.
Royal visits have always been a central plank of Britain's diplomacy over the centuries, so there is something brewing when – from a clear blue sky – it has been announced that HRH Prince William is going to visit Israel breaking that long long attitude that Israel is a pariah nation.
It has happened only four months after Theresa May's extremely warm words about Israel at Lancaster House during the celebration of the centenary of the Balfour Declaration which gave the Jews back their homeland.
Things are usual in one regard however, the official bullshit is still the same.
"Official visits are organised and taken on the advice of the Foreign and Commonwealth office," a press officer for the Royal Family explained when Prince Edward visited Israel privately – and a spokesman for the Foreign Office replied that 'Israel is not unique" in not having received an official royal visit, because 'Many countries have not had an official visit.'
Sure, sure. That might be true for Burkino Faso and Chad, but the Foreign Office has somehow managed to find the time over the years to send the Queen on State visits to despotic hell-holes like Libya, Iran, Sudan, Kuwait, Bahrain, Qatar, the United Arab Emirates, Oman, Saudi Arabia, Tunisia, Algeria, Morocco and Jordan. So it can't have been that she wasn't in the area, and couldn't drop in for a moist bite of chocolate, hazelnuts, and apricot jam, encased in tender cream-cheese dough and a drop of peppermint tea.
Actually back in 2015 it was reported in The Telegraph that an unnamed FO official told a reporter that they couldn't go there until the Arab/Israeli conflict was resolved. "when the Arab/Israeli conflict is resolved" is the poetic way of saying 'never' or expressing the concept of eternity.
"The Royal family can't really go there, in Israel so much politics is caught up in the land itself that it's best to avoid those complications altogether by not going there."
That is the mealy-mouthed claptrap the FO is famous for.
Perhaps Her Majesty hadn't been on the throne long enough, at two-thirds of a century, for the FO to get round to allowing her to visit the one and only democracy in the Middle East. At least she could be certain of a warm welcome in Israel, unlike in Morocco where she was kept waiting by the King for three hours in 90 degree heat, or at the Commonwealth Heads of Government Meeting in Uganda, where they hadn't even finished building her hotel.
The Foreign Office ban on Royal visits to Israel was all the more powerful for its being unwritten and unacknowledged, like so much 'club' or 'social' anti-Semitism in Britain. As an act of delegitimisation of Israel, this effective boycott was quite as serious as other similar acts, such as the academic boycott. Now it is over, and hopefully there will be many such visits, including of Prince Charles and the Duchess of Cornwall.
Israel has been in existence for longer even than Her Majesty the Queen has been on the Throne. It was high time that someone of status in the House of Windsor went there.
When you consider that it was the English – especially Churchill – which was instrumental in getting Israel set up in the first place (even though they went a bit cold on it later), that Prince William was baptised – as was the Queen – from water from the River Jordan, and that it is his great-grandmother – a Righteous Gentile – who is buried there, the enthusiasm from the Israelis will be sky-high.
And when he gets back to Britain after his visit, Prince William will be able to tell the rest of his family what a wonderful place they were forced to miss out visiting because of the ban imposed for 70 years by a small group of Foreign Office Arabists. He will hopefully open the door to plenty more such visits, advertising to the world how much Britain values her brave democratic ally in the Middle East.
What is behind all this?
One guess mixed with another is Trump and oil. Trump has 'legitimised' Israel – more that that he has said in effect You let them be now,
They're with me now.
And the US now has more oil and gas than Saudi Arabia, so the despots who lucked in with oil will no longer be able to pressure the UK.
Then there is also Brexit. The EU doesn't like Israel; with Brexit Great Britain can snap their fingers at the EU and make friends that happen to suit them, not the gnomes of Brussels.