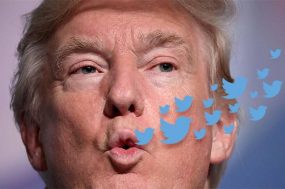 Getting news in little bits
You have a better chance of finding a black cat in a dark cellar on a foggy moonless night than finding out what Trump is doing if your only source is the foam-flecked lips of news readers, or the acid outpourings of the world press.
That is the reason he Twitters. He by-passes 'news' and leaves the grubs of the media and the political class to 'analyse' what he means.
Right now he is in Hanoi – Vietnam – the land of yesterday's enemies, but his Twitters have nothing to do with Vietnam.
Russia: In a mixed stream of postings he said that having a positive relationship with Russia is "a good thing" and that Moscow can "greatly help" solve crises in Ukraine, North Korea, and Syria, and with global terrorism.
"When will all the haters and fools out there realize that having a good relationship with Russia is a good thing, not a bad thing," he wrote.
"There [sic – he doesn't use a spell checker or filter though editors] always playing politics — bad for our country. I want to solve North Korea, Syria, Ukraine, terrorism, and Russia can greatly help!"
Trump didn't back off Russia's interference in US elections. He would be a mug to do so, since the US is a mighty long way from being Simon Pure. Obama poured money into anti-Netanyahu groups to try to oust the Israeli leader for example. (Personally, I think that it was hatred, not politics. Obama had measured himself against a real man and the difference wounded him.)
At any rate, Trump expanded earlier statements he made about Russian tampering by saying he believed U.S. intelligence agencies' assessment (that Russia had been up to tricks) but that he also believed Russian President Vladimir Putin was sincere in his denials about the meddling."He said he didn't meddle. He said he didn't meddle. I asked him again," he said."Every time he sees me, he said: 'I didn't do that.' And I believe — I really believe — that when he tells me that, he means it,"
Putin simultaneously weighed in and told the journalists in Danang that an alleged link between Trumps ex- campaign boss, Manafort, and Russia was being fabricated by Trump's opponents as a weapon against Trump. Manafort "has nothing to do with us."
So Putin is backing up Trump who is backing up Putin. He doesn't deny that Russia had been naughty, just that he had nothing to do with authorising it.
It might be routine politeness. But it does say a lot for a solidarity between two of the real shapers of history.
Later, but not in a Twitter, Trump said Moscow had been "very heavily sanctioned" and that "it's now time to get back to healing a world that is shattered and broken." The 'healing' bit is a prelude to his trip to Moscow obviously. No doubt the Russian secret service has analysed the arse out of that statement. They will forced to since he did not explain his sanctions comments further or specifically suggest any easing of them.
But as he said he wants to solve a number of problems and Russia can help. Of course it can 'help' there is no one else who can help, whether it is Ukraine or Syria.
In another tweet, Trump taunted the media by saying that Hillary Clinton "was begging Russia to be our friend" when she was secretary of state, and that Obama also tried to improve ties with Moscow but they "had zero chemistry with Putin."
On Syria, Trump revealed he had reached a kind of stage 1 with Putin. (Assad was not even referred to) after the two met at a summit in Danang.
"We (Putin and he) agreed very quickly," Trump told reporters aboard Air Force One – Syria was not going to have a military solution but would be fixed without losing more lives – except maybe lives of terrorists. Simultaneously, Putin announced the same thing. If this sort of thing keeps up, you wonder what diplomats will have to do.
China: The Chinese President Xi Jinping had an idea of who he was dealing with when Trump excused himself from an official dinner to go out for a few minutes to destroy half the Syrian Air Force (after a friendly warning to Putin that he had better get his guys out of there before the strike.)
So it is not surprising that Trump Twitters that Xi Jinping "has stated that he is upping the sanctions against them [North Korea]. Said he wants them to denuclearize. Progress is being made." At a guess, Trump is an advocate of the Big Stick policy.
While he was at it, he pretended to be offended at comments made by Kim Jong Un, who had called him a "lunatic old man."
"Why would Kim Jong-un insult me by calling me 'old,' when I would NEVER call him 'short and fat?' Oh well, I try so hard to be his friend — and maybe someday that will happen!" he wrote.
Oh, yes, "lunatic' I can accept – but not 'old.'
It is a bit like the story of King George saying of General Wolfe who shattered the French in Canada. When told by the Duke of Newcastle that Wolfe "was by no means eligible for so important a station, being positively mad, "Is he?" replied the king, "He shall go for all that, and before he sets out I wish to my God he would bite some of my Generals, and make them mad too."