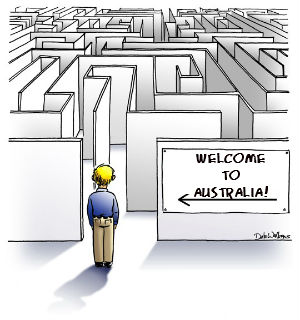 The Prime Minister, Mr. Trump-Turnbull, has recognised two things, said a MM source in the Lodge who cannot be named, Jason Pilgarlic, of Letsby Avenue, Pett Bottom, Canberra.
Firstly, Mr Trump-Turnbull has recognised that Trump's method of sorting out immigration works. After he got advice from the Treasury that there was no money to build a wall around mainland Australia, he has re-instated the old 'dictation test' meaning you have to speak English before you can come in. And a heap of other things to make it tough.
Secondly, Trump-Turnbull has recognised that nationalism works too. And slogans like Aussie Jobs for Aussie Blokes, and Aussie Barbies are the Best will propel him back in contention for the next election.
Recognising these things of course does not mean he believes them, said MM's source, but it was either that or the blue pills.
"Would not be surprised," said MM 's source, "if he re-introduced nasho."
The Turnbull government has embarked on a wholesale redrafting of Australia's citizenship laws that will force applicants to pass a ­higher-standard English language test, extend the residency requirement from one year to four, and demand evidence of integration including employment, tax payments and schooling for children.
The changes would abolish the current system that allows unlimited attempts to pass the citizenship test, imposing a two-year denial if an applicant failed three attempts and an automatic fail for those who tried to cheat the test.
The new citizenship model will also explicitly target religious extremism as being inconsistent with Australian values.
Fearing a flood of applications following the announcement of the strengthened laws, The Australian can reveal that they will come into effect today and be backdated for all new applications made once amended legislation passes parliament later this year.
The announcement today of the citizenship reforms will be the centrepiece of what is expected to be a fundamental reform to the immigration and visa system that began on Tuesday when Malcolm Turnbull announced the abolition of the 457 foreign worker visa scheme.
Under the citizenship changes, the government will also amend and strengthen the "loyalty" pledge to an explicit pledge of allegiance to Australia. Social welfare fraud checks would be imposed for the first time on applicants and higher barriers on criminal history would be enacted.
The current system sets a good "character test" that rules out anyone with a conviction for a serious offence. For the first time domestic violence, gang-related activity and organised-crime associations will be included in more forensic police checks.
A government source said the new test would look more deeply into people's history for minor offences that were not consistent with Australian values such as social welfare fraud and abuse.
New questions targeting religious extremism will be designed to demonstrate appreciation of Australian values, with potential questions to include whether the principle of religious freedom allowed for children to marry, ­genital mutilation, striking a spouse and prohibiting girls from school.
A position paper — to be released today and obtained by The Australian — cites national security and the global threat of terrorism as factors in the decision to update the citizenship laws to re-affirm a commitment to democracy and stronger Australian values.
"Recent terrorist attacks around the world have justifiably caused concern in the Australian community," the paper says.
"In the face of these threats, there is no better time to reaffirm our steadfast commitment to democracy, opportunity and our shared values. The Australian community expects that aspiring citizens demonstrate their allegiance to Australia, their commitment to live in accordance with Australian values and their willingness to integrate into and become contributing members of the Australian community.
"In addition to existing police checks which are undertaken as part of any application for ­citizenship, an applicant will also be assessed for any conduct that is inconsistent with Australian values, such as domestic or family violence, criminality including procuring or facilitating female genital mutilation and involvement in gangs and organised crime."
The reforms, the first significant revision since 2007, are a recognition that the current tests were not onerous enough, were open to abuse and did not place a high enough value on Australian citizenship.
The Prime Minister said the reform would put Australian values "at the heart of citizenship processes and requirements". It will draw from a reformed multicultural statement revealed by The Australian in January that introduced freedom of speech as a value. "Membership of the Australian family is a privilege and should be afforded to those who support our values, respect our laws and want to work hard by integrating and contributing to an even better Australia," Mr Turnbull said.
"We must ensure that our citizenship program is conducted in our national interest.
"Citizenship is at the heart of our national identity, is the foundation of our democracy.
"Those who choose to become Australian citizens are making a solemn commitment to our democracy, to our way of life. And that commitment, made by 5 million since 1949, has helped secure and enrich our nation.
"These changes are part of our wider package of reforms. We are protecting Australian jobs and promoting Australian values."
The reforms have been drawn from a report from the National Consultation on Citizenship commissioned in 2015 and a 2016 Productivity Commission report on Australia's migration intake.
Immigration Minister Peter Dutton flagged the tougher citizenship laws this year when he suggested that knowing cricket legend Don Bradman's batting average should not be a passport to being an Australian citizen.
"Our government has stopped boats, got kids out of detention, cancelled visas of criminals, closed down Labor's dodgy 457 programme and now we are modernising the pathway to citizenship," he said. "Our country shouldn't be embarrassed to say we want great people to call Australia home. We want people who abide by our laws and our values and we should expect nothing less."
There will be a new requirement to provide documentation that people who can work are working or in education, are complying with welfare access, and are "properly paying taxes".
Applicants from today will be required to have been Australian residents for four years instead of only 12 months and would be required to have spent no more than 12 months in total out of the country during that time.
The requirement of English proficiency is based on an integration principle. and would elevate the current "basic" English requirement to "competent" including speaking, reading and writing skills.
commentss
I find all this a bit weird. The citizenship test announcement was made back in November 2016. Why are we getting excited about it today.
@Mic Looking for a poll boost due out next week.
Its about time!
I reckon Turnbull needs to get rid of the HRC too, I don't believe they have Australians best interests at heart.
What sort of 'loyalty' pledge is it that doesn't explicitly require allegiance to Australia?
The one that has been used
Good!
Now get on to Halal Certification and repatriating undesirable migrants!
PS – and banning those who have demonstrated that they don't make good citizens.
At least Dutton's heart is in it, regardless of MT's reasons for going along with it.
According to your report, the government has decided that these changes 'will come into effect today and be backdated for all new applications made once amended legislation passes parliament later this year.'
This is sensible, but what happens if the government can't get its legislation through the Senate?
@Rick I guess voters will have to start being harder on senators who want to push their own barrow.
It certainly wouldn't be before time.
What could stop these positive moves forward for a stronger Australia?
Malcolm, Malvcolm, Malcolm you really need to act like a big boy and play nice. You shouldn't let yourself be bullied by people like Pauline and Corey and stand up for what's right. Turnbull is now a total sell out to everything he ever said he believed in. In the next election he will no doubt be donating millions to One Nation
i think you'll find yourself in the minority on this one a Paul. "Citizens" with no language skills or especially literacy might be handy for voting Greens or Labour, but they're lifelong passengers when it comes to contributing and supporting themselves with a job.
FlagShare
10joJulieTedPeterLikeReply
dexxter
dexxter
56 minutes ago
About time. Hopefully those already here and involved in criminal activity eg some Islanders, Sudanese and those from the Middle East will be denied citizenship and deported where possible.
In the past people had to wait 5 years before they could apply for citizenship. Why was this ever lowered? No wonder becoming a citizen was abused.
Much tougher regime in Switzerland – No undesirables allowed – and they pay for the privilege
This is so so long overdue with more like this needed
This is long overdue. It seems that Peter Dutton and immigration issues are finally being taken seriously by Turnbull. Good.
I would suggest, he has been pushed by both Dutton and Abbott, a formidable pair, to actually doing something.