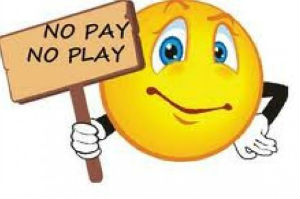 Trump says No tickee, no shirtee.
Trump lays down the law to Europe.
The snooty Frogs and Krauts have had it too good for too long. The US has borne all the heavy lifting for the defence of Europe – at least defending against regular armies.
The US presence in Europe is better than a few million tourists a year for the Nato European nations, they benefit, but it is a huge outflow of US taxpayer's dough just to essentially drill and train in a foreign country.
Mad Dog Mattis, (I love that name) is the first member of Mr Trump's top team to visit Europe since Trump's inauguration and he didn't mince words when he got there. He heralded a bruising new phase in the relationship between Europe and the US. He wants to see the cash.
He soothingly told them that Trump's support for the 28-nation alliance is a "fundamental bedrock." Not just fundamental, not just bedrock, a fundamental bedrock. Gosh.
But, no tickee no shirtee.
"No longer can the American taxpayer carry a disproportionate share of the defence of western values. Americans cannot care more for your children's future security than you do yourselves," Mad Dog told them.
"America will meet its responsibilities but if your nations do not want to see America moderate its commitment to this alliance each of your capitals needs to show support for our common defence."
Getting down to brass tacks he said that ministers must adopt a plan this year that sets dates for governments to meet the Nato target of spending at least 2 per cent of national income on defence. Aside from the US, four countries, including Britain, meet the goal, the rest are hangers on.
The US warning comes at the time Russian military activity from the Black Sea to the Baltic and nervousness in Europe about the White House's determination to see Russia right in future relationships. "You all pay up or I'll tell Putin I have no interest in what he is doing in Ukraine."
It's an updated version of the old Mafia protection racket.
Last July Trump was asked whether the US would assist a Baltic state "if Russia came over the border". He said: "You can't forget the bills . . . Have they fulfilled their obligations to us? If they fulfil their obligations to us, the answer is yes."
Clear? Any Questions?
Of the three Baltic states, Estonia, Latvia and Lithuania, only Estonia meets the 2 per cent military spending target, along with Greece, Poland and Britain. Italy and Spain spend barely 1 per cent of GDP on defence. Germany and France are hanging on to their dough.
"I owe it to you to give you clarity on the political reality in the United States, and to state the fair demand from my country's people in concrete terms," Mattis said in the closed session, according to remarks released afterwards.
Sir Michael Fallon, the UK defence secretary, backed the US demand for all member states to meet the Nato spending target. "An annual increase that we are asking them to commit to would at least demonstrate good faith," he said.
Sir Michael will hold talks for the first time with Mattis and reiterate Theresa May's commitment to use Britain's influence to push other Nato members towards the 2 per cent goal. Several countries in Europe are thought to be committed to meeting the target by the end of the decade.
Ursula von der Leyen, the German defence minister, her fingers in the vice, managed to cough out a reluctant statement that the US was right on defence spending. She says OK, OK, she will boost defence spending from the current 1.2 per cent. Practically double.
They laugh at Trump in the dingbat US media, it's a different attitude in the Chancelleries of Europe.
---
By the way, Sweden is not part of Nato. Its battle plan consists of a Big Red Button on the desk of the Prime Minister. Should anyone encroach on Sweden's territory, he or she presses the button and instantly loudspeakers all over Sweden plays a continual tape saying "We surrender" in most modern European languages.
As it did not have Arabic or Syrian on the tape the way was open for hundreds of thousands of army age young men to descend on Sweden and make themselves at home. Immigration authorities had no plan for them.