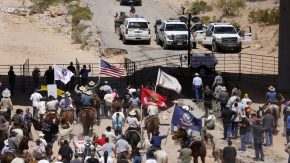 Trump pardons ranchers who inspired siege
Green heads are exploding all over the world at Trump's latest pardon. So will Fairfax tomorrow when they roust out their greeny scribes.
Y'see these were two ranchers, Hammond father and son, in mountainous Federal land in Oregon who had lit a fire that went beyond their control. The fire didn't kill anyone, it didn't kill millions of cuddly creatures, but it was in the context of grazing and other rights that the prissy purist madmen of the Environmental Protection Agency had closed down on the ranchers in the area.
The fires had been lit to stop wildfires getting into the Hammond's land and to destroy invasive weeds.
Obama's soy boys, full of holy zeal, went all out to prosecute them and they ended up with five years prison.
It didn't end there – the perceived unjust sentence for the Hammonds inspired Ammon Bundy to lead an armed standoff in early 2016, when a group of armed men broke into the headquarters of the Malheur National Wildlife Refuge in Oregon.
At the time, Bundy said that he wanted the federal government to relinquish control of the wildlife refuge so "people can reclaim their resources." He also wanted an easier sentence for Dwight and Steven Hammond, who had both previously rejected his assistance.
However one man was killed as a result. He had driven his truck at a roadblock while trying to get out of the siege. The police thought that it merited shooting at him.
Granting the pardon Trump said, "The Hammonds are devoted family men, respected contributors to their local community, and have widespread support from their neighbors, local law enforcement, and farmers and ranchers across the West," she said. "Justice is overdue for Dwight and Steven Hammond, both of whom are entirely deserving of these Grants of Executive Clemency."
So far they have been in prison for 4 and 3 years.
Back in June this year Fairfax journos picked up on a US claim that Trump was insanely pardoning people and Fairfax has been shivering for the last few weeks.
Please do not send them flowers, a week's supply of Valium would be more appropriate.