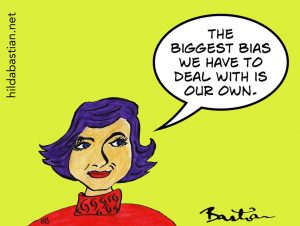 Oxford University extends exam time so women can get better grades
MM wonders if the loss of one of their academics has left British Universities mentally befuddled. One of Australia's leading scientists has attacked attempts to "feminise'' the high school physics curriculum by replacing maths formulas with essays, as a "disaster'' which has left students unprepared for university. Renowned quantum physicist Michelle Simmons used an Australia Day address in Sydney  to warn against the dumbing down of high school ­science and urged authorities to "set the bar high'' for students to encourage them to excel.
Professor Simmons obtained a physics PhD in her native Britain but chose to work in Australia in 1999 because it offered "a culture of academic freedom, openness to ideas, and an amazing willingness to pursue goals that are ambitious".
Students at the Oxford University are enjoying extended exam times in math and computer science by 15 minutes in a bid to boost the grades of women entrants, it has emerged.
Undergraduates sitting examinations in summer 2017 were given 105 minutes to complete their papers rather than 90 following faculty claims that "female candidates might be more likely to be adversely affected by time pressure".
According to The Telegraph, the board of examiners recommended the department take action to improve women's scores in 2016, after just seven women students achieved firsts compared to 45 men.
Insisting no changes were made to the length or difficulty to questions on the test, a spokesman defended the move by the university as having been "academically demanding and fair", pointing out that while 39 per cent of female math undergraduates achieved first class degrees compared to 47 per cent of men, women's scores have been rising year on year.
Antonia Siu, Undergraduate Representative of Oxford Women in Computer Science, said: "I am uneasy about schemes to favour one gender over another.
"But I am happy when people see gaps between groups of people who should not reasonably have such gaps – such as between genders, races or class – and take that as a starting point to think about the kinds of people they unintentionally are leaving behind."
With around two-thirds of undergraduates female, the gender gulf among students is growing, and women dominating in the fields of medicine, law, and biology
While the latest figures showed white people in Britain to be far less likely than their peers to attend universities, Labour MP and former Mastermind contestant David Lammy said that the real problem with regards to university entrance and racial bias in Britain is the low number of black people in certain Oxbridge colleges.
Earlier this month, Breitbart London reported that Labour's Shadow Education Secretary Angela Rayner admitted that the white working class, in particular, are being disadvantaged in Britain by a focus on ethnic minorities and women.
"I think it's because as we've tried to deal with some of the issues around race and women's agendas, around tackling some of the discrimination that's there, it has actually had a negative impact on the food chain [for] white working boys," she told The Spectator.