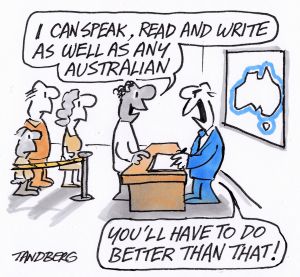 While Fairfax has been caught on the back foot with Mr. Trump-Turnbull's plans to cut out Muslim immigration Tandberg, the Herald's drolly cynical cartoonist, got it right.
The proposed new immigration laws ask the immigrants if they are support wife beating and genital mutilation among other things.
So what? they can say they do without meaning it – they have Taqiyya on their side. Ah, but…
We know that as well as they do and the questions are just there to catch them later.
If you later beat up the missus, if you force marriages, – and you have said that you wouldn't – that is enough to revoke your chance to be a permanent citizen without the government having to go through a lot of red tape to put you out. You lied on your application form.
There will be a lot of heavy hearts in the mosques of the world tonight.
And will there be repercussions?
Shouldn't be surprised if Turkey and Saudi Arabia and Iran and Iraq and Nigeria make it a stipulation that if any Aussie wants to settle there he has to promise that he does support mutilating a woman, and giving her a gentle hiding now and then.