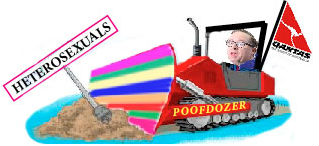 More SSM bullying from the "limp-wrist" brigade
Is the bedroom a Qantas domain?
Australia's highflying, homosexual, Qantas CEO Alan Joyce, recently vowed to up his push for gay marriage after getting publicly "pied in the face", a jolly old prank provoking plenty of giggles among most Aussies. With traditional poofter spite Joyce used his power to ban the pieman from all Qantas carriers for life. Does he own the bloody airline? Such outrageous retaliation speaks volumes about character.
Qantas has become one of the first major Australian companies to throw its weight behind the Yes campaign prior to a same-sex marriage postal vote, as pressure mounts on corporate leaders who have been vocal on the issue to ­follow suit.
Source: News Corp
Qantas will campaign in favour of same-sex marriage
"Qantas is a long-time supporter of marriage equality, and therefore a big supporter of a Yes vote," a spokeswoman told The Weekend Australian. "There is a lot we can do just by lending our voice to the discussion and that's what we intend to do."
The pledge of public support came a day after Bill Shorten said Labor would campaign for a Yes vote, and urged others to do the same. "Voting Yes is not about ­endorsing this process, it is about refusing to walk past our fellow Australians when they need us," the Opposition Leader said.
"This is my message for business leaders, sporting leaders and community groups. It is time to fight for equality."
Activist group GetUp! and ­advocacy organisation Australian Marriage Equality announced yesterday they would campaign for a Yes vote.
Other companies to come out in favour include accommodation giant Airbnb. "If this is the process our political representatives ultimately choose to pursue, we will throw our full support behind the campaign in favour of marriage equality," said the company's Australian head, Sam McDonagh.
The show of support for the Yes campaign from companies such as Qantas will likely put pressure on the hundreds of firms and organisations that have signed up to Australian Marriage Equality's corporate support campaign, ­including many of the nation's banks, airlines and financial ­services firms.
A spokeswoman for PwC, which has also been long committed to the same-sex marriage campaign, said it would not comment on its campaign strategy until the High Court made a decision on the postal vote.
The head of the Business Council of Australia, Jennifer Westacott, said the organisation would not try to persuade its members to take a particular side.
"This is a matter that companies will form their own views on, and I note that many companies are supportive of marriage ­equality," she said. "For me personally, I will be participating and I will be voting Yes."
Telstra, Wesfarmers and ANZ did not respond to a request for comment, but told The Australian on Wednesday a campaign position had not been taken.
Qantas chief executive Alan Joyce has become the corporate face for same-sex marriage issues and has been vocal in lobbying for change. In March, he defended the right of chief executives to be outspoken on the issue after Immigration Minister Peter Dutton criticised corporate Australia for becoming involved in the debate. "Qantas (and its CEO) are often called on to speak publicly on issues like company tax, industrial relations and trade," Mr Joyce wrote in an open letter. "And we do. Because these are ­important issues that ultimately shape what kind of society we live in (which is the point of economics, right?). We're pleased to ­include marriage equality on the list."