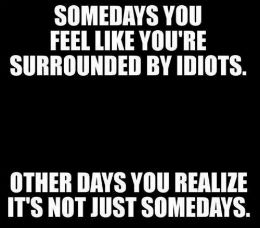 There is something evil in the water in Canberra!
You're not kidding!  What ever got into the water in Canberra won't kill, it simply sends one completely mad, an easy transition for the already stupid. Why can't we be Australian and not try to be "Heinz 57 varieties"? Does it stupidly follow that the dictates of government will require a wardrobe stuffed with 150 national ensembles?
The Department of Foreign ­Affairs and Trade has been criticised for its foray into "fashion ­diplomacy" after sponsoring an Australian-made Islamic clothing exhibition targeting the burgeoning Southeast Asian "modest fashion" market.
Tony Abbott yesterday launched an attack on DFAT for backing the initiative, accusing bureaucrats of having a "very unfortunate readiness" to ignore mainstream Australian values.
Source: News Corp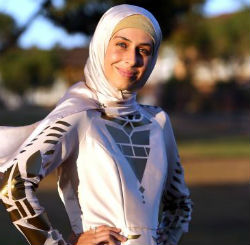 Fashion diplomacy sparks cover-up uproar
The former prime minister said he was "flabbergasted" that DFAT had sponsored an exhibition of Australian-made "modest fashion" for women in Malaysia, a majority-Muslim country.
The exhibition, which has featured burkini swimsuit inventor Aheda Zanetti and academic Susan Carland, was taken to Mal­aysia by DFAT to capture the "booming" fashion market while promoting Australian diversity. The move comes as the federal government is increasingly working with governments in Southeast Asia to reduce radicalisation in the region.
In 2010, the Gillard government agreed to spend $500 million building 2000 schools in Indonesia to combat radicalism in the education system.
While Mr Abbott said DFAT should drop its taxpayer-funded support for the exhibition and "get with the mainstream", Australian designers, including Ilham A. Ismail, welcomed the assistance. Ms Ismail, whose designs featured on the catwalks of the world's first "modest-wear fashion shows" in Turin, Italy, and Dubai last year, saw her work honoured at the Malaysian exhibition Faith, Fashion, Fusion.
The young designer was positive about DFAT's initiative.
"I think it's great," Ms Ismail said.
"Australia is the most ­multicultural country in the world and if we're not promoting different parts of our society here, where would we?"
Themes of unity and acceptance in society are central to Ms Ismail's work, whose first collection as a fashion student at the University of Technology Sydney, was based on "coexistence in Australia after Martin Place".
Ms Zanetti said the DFAT-sponsored tour was promoting Australian products and opening up new markets. "This is a product that is made in Australia, providing jobs for Australians, and showcasing our products to other countries such as Malaysia," Ms Zanetti said.
"I was quite honoured to be invited and excited the Australian government was supporting it."
She said the Islamic clothing industry had "enormous untapped potential" for the burkini and other modest clothing.
"We are the original burkini swimsuit and we have exported and do export worldwide," she said. "We are quiet achievers and totally, totally Australian-made. There are 1.5 billion Muslims around the world and more than half of them are women. We haven't tapped into it enough.
"Companies such as Speedo are making similar suits too. It shows there is a massive market out there, and I was honoured they chose to showcase my work."
Mr Abbott said he was "dismayed, to put it at its mildest, that DFAT should apparently be ­pandering to what can only be ­described as a very old-fashioned view on modesty.
"To the extent that DFAT is getting into this space, it should be comforting people's right to defy stifling ­orthodoxy, not to be ­coerced by it.
"I am just quite frankly flabbergasted that an official Australian government agency should be pandering to what is, to put it at its kindest, an incredibly old-­fashioned view of modesty. Now I think this shows a very unfortunate readiness to sell out mainstream Australian values."
Mr Abbott said people in ­Australia could dress very old-fashioned, or even "medieval", if they wanted.
"But that is not our way," he said. "We want Australians to be free and open, we want them to show their face and if they want to show a bit of their arms and their legs and wear a bikini, well, we ­celebrate that, we don't apologise for it."
DFAT expects spending on the "booming" Islamic modest fashion to increase by more than 7 per cent by 2021. A department spokeswoman said the fashion ­industry should support "all sorts of fashions".
"Fashion diplomacy is about promoting Australian designers, manufacturers and textile producers around the world," the spokeswoman said.
"The industry adds $12bn annually to Australia's economy and employs 220,000 people."
A spokeswoman for Foreign Minister Julie Bishop said fashion diplomacy was about respecting diversity and making all cultures feel valued and equal.
The exhibition — Faith, Fashion, Fusion: Muslim Women's Style in Australia — was developed by the NSW government's Museum of Applied Arts and Sciences in 2012 and has featured in Australia, including at the National ­Archives of Australia.
Its Malaysian launch was held in Kuala Lumpur in November with the support of DFAT, the Australia-ASEAN Council and corporate sponsor Lendlease ­Malaysia.