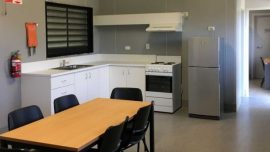 Showdown today: at the Manus not OK corral?
How long before this new kitchen is trashed by the scumbags who don't want to go there?
Authorities keep shifting the "last day" at the now closed but still occupied Manus detention centre. Government only has itself to blame for not taking a firm stand from the outset, a mistake they like to repeat expecting a different outcome—right Albert? We have money to burn and waste on this human dross while our pensioners, the ones who put more than 60 years of sweat, toil and taxes are sent deeper into penury—bring on the election!
The cost of readying just one of the alternative facilities for refugees on Manus Island was once described by the Australian Border Force as "fairly minimal", but the centre has ended up costing taxpayers $8.1 million. Logistics giant Toll Group is being paid the hefty sum for what is believed to have been about 24 days of work upgrading the East Lorengau Refugee Transit Centre to accommodate about 440 men.
Source: Fairfax
Manus Island facility upgrade cost $8.1m for 24 days' work
However, the facility remains half-empty, with hundreds of refugees still refusing to leave the regional processing centre after it was decommissioned two weeks ago.
The roughly 420 men who remain at the camp were braced for violence on Sunday night after authorities advised them that Papua New Guinea police may remove them by force on Monday.
The group has subsisted on the site for 13 days without supplies of food, water or electricity, sustaining themselves on stockpiled goods and rainwater collected in tanks and bins.
They say they will not leave one "prison" for another, and fear for their safety in Lorengau, where they have previously clashed with locals.
A handful of men did choose to leave at the weekend, joining a group of nearly 100 who last week agreed to relocate to Lorengau.
One such man, Rohingyan refugee Imran Mohammed, said the upgraded transit centre was "OK" and no different from the regional processing centre, but the newly arrived men had not yet received their weekly payments to buy food.
"[Officials] don't answer our questions and there is no system in place at all," he said. "They are just moving the men and leaving them with no help."
The transit facility was built years ago, and Toll Group was paid to expand its capacity to 440 men. On Friday, the government's tender website showed the value of the Toll contract had been revised to an extraordinary $70 million.
A spokeswoman for the Department of Immigration and Border Protection said on Sunday that the figure was a data entry error and the correct value of the contract was $8.1 million.
Asked about the upgrade at a Senate estimates hearing in May, Australian Border Force deputy commissioner Mandy Newton said "the cost is fairly minimal" because it simply involved moving beds.
The $8.1 million contract included upgrades only to the existing transit centre and did not include the cost of building and fitting out West Lorengau Haus or Hillside Haus, to which asylum seekers are also being relocated.
The total cost of providing the alternative accommodation has reportedly exceeded $30 million.
A spokeswoman for Toll Group declined to comment and the Immigration Department could not respond to further questions before deadline.
Immigration Minister Peter Dutton last week described the East Lorengau transit centre as a "purpose-built facility" and said the only difference to the processing centre was that refugees would have to prepare their own meals.
"Some think that that's not good enough for them," he told radio host Ray Hadley.
Mr Dutton has also accused refugee advocates of plying the men with "false hope" they might come to Australia by protesting the closure of the regional processing centre.
On Sunday, PNG Immigration Minister Petrus Thomas reportedly released a statement outlining his expectation for the men to leave the processing centre by Monday. Otherwise, authorities would take steps "to move the residents based on serious health risks", he said.
New Zealand Prime Minister Jacinda Ardern also said she would use this week's East Asia Summit in the Philippines to press Prime Minister Malcolm Turnbull on her offer to resettle 150 refugees from Manus Island.
"I see the human face of this issue," she said. "I think it's clear that we don't think what's happening there is acceptable – that's why the offer is there.