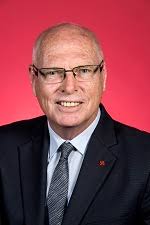 Senator Jim Molan warns about China
Senator Jim Molan AO, DSC is a Liberal senator for NSW. He was also a Major General in the ADF. His article in today's Australian details China's involvement in Australia's critical infrastructure, a matter that should be of importance to all politicians. Of special note should be the Australian lobbyists that tout for the benefit of China, including financial arrangements if any.
In these uncertain times, Australia has done much to counter foreign influence or control, including the acquisition of critical infrastructure by foreign powers. The Critical Infrastructure Centre has been established to provide expert advice to government to safeguard the nation's key assets. Last month, the government restricted the Chinese company Huawei from participation in Australia's 5G network at a time of unprecedented foreign interference in our domestic affairs.
Source: News Corp
Beware the hidden dragon in any energy deal
Energy must also be protected. As then treasurer Scott Morrison announced in February in relation to electricity transmission and distribution, the government is "committed to an open foreign investment regime that strikes the right balance in managing national security risks". The Prime Minister, in his previous role, emphasised the importance of the integrity of Australia's energy infrastructure by ensuring diversity of ownership and the consideration of the national ­security risks associated with transactions.
His comments followed the NSW government's privatisation of its electricity poles and wires in 2016, which resulted in the Foreign Investment Review Board ­requiring a minimum level of domestic ownership and control. This should be kept in mind when considering the proposal from the Hong Kong-based CK Infrastructure Holdings to acquire APA Group — an energy infrastructure business that owns and operates the country's largest network of gas pipelines including the principal means of transporting gas on the eastern seaboard.
CKI's bid is unacceptable for reasons of concentration of ownership and national security. It already owns much of our energy infrastructure, dominating electricity transmission and distribution in Victoria and South Australia, along with gas distribution in those two states and in Western Australia. With APA it would attain massive stakes in Queensland and NSW. Although CKI pledged to sell its WA assets in order to gain Australian Competition & Consumer Commission approval, it threatens to gain the same degree of dominance over the nation's gas assets that it already enjoys over electricity infrastructure elsewhere.
Problems can arise from ­excessive concentrations of ownership, affecting prices, levels of service and future investment, as we have seen in the electricity ­sector, and this will be examined by the FIRB. As Morrison has ­declared, maintaining a diversity of ownership in critical energy infrastructure is a key priority. And gas will continue to grow in importance in the future, especially for baseload power.
When the entity that might soon own such gas assets is from Hong Kong, we have reason to be wary, and I am opposed to CKI buying APA. It would pose enormous problems for Australia's ­national security. We are vulnerable enough with liquid fuel ­reserves. The Chinese have been making a concerted effort to acquire our energy infrastructure and, despite the decision to bar Chinese enterprises from purchasing Ausgrid in 2016, they have managed to purchase stakes in Jemena, ElectraNet and AusNet.
That CKI is privately owned and not a state-owned enterprise from mainland China is little comfort. We have witnessed the steady erosion of the "one country, two systems" policy in relation to Hong Kong, and the steady accumulation of the Communist Party of China's influence. Hong Kong companies are increasingly subject to pressures exerted by the CPC. The scale of CKI's business activities on the mainland is further evidence of its vulnerability to the party's influence and ultimate control. It is not possible to do business on the mainland without the acquiescence of the CPC. This naturally exposes companies to the party's coercive influence, which we have found unacceptable in other key infrastructure.
These are the total kilometres of Australia's wires and pipelines CKI would control (either outright or in partnership) should it buy APA: for electricity transmission and distribution, 100 per cent in Victoria, SA and the ACT; for gas transmission and distribution, 100 per cent in NSW and the ACT, 99 per cent in Victoria, 86 per cent in SA, 78 per cent in Queensland; and for gas transmission alone, 62 per cent in WA and 74 per cent in Queensland.
Most Australians would find these figures confronting.
Foreign owners will always ­insert their executives into management roles, controlling appointments and remuneration. Under such circumstances, it is ­effectively impossible to prevent sensitive information being passed along to owners.
This raises the question of why critical assets are not required to be owned and controlled by Australian capital. APA is Australian-owned and controlled. Ausgrid is owned by Australian superannuation funds. Other energy networks in NSW, such as Transgrid and Endeavour Energy, are owned by consortiums that include Australian superannuation funds but not Chinese capital.
There is more than $100 billion in Australian superannuation capital invested in infrastructure assets in Australia and overseas, and billions more if we take into account the Future Fund, other sovereign wealth funds and Australian insurance groups. The superannuation system is likely to increase from $2.5 trillion today to more than $8 trillion in 20 years. So there's no lack of domestic capital to be invested in our critical infrastructure.
Under the CPC, no Chinese business, private or state-owned, can operate independently of the party's wishes. China's National Intelligence Law obliges businesses to comply with directions from intelligence agencies, and we know that there is an active Chinese intelligence-gathering effort targeting Australia. The potential to interfere with our critical infrastructure is unacceptable.
Allowing Chinese to own APA would not only assist Beijing's intelligence-gathering, it increases our vulnerability to sabotage. A hostile actor could wreak havoc by deploying malware into these ­industrial control systems.
This is hardly an idle concern — in ­December 2015, Russia disabled part of Ukraine's electricity grid that way.