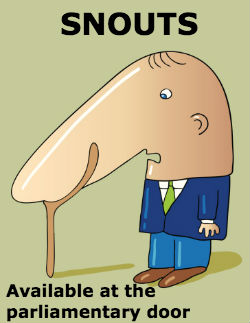 Senate scraps gold pass
Former federal politicians will no longer be able to take free flights on the taxpayers' purse, amid an expenses crackdown voted on by the Senate on Thursday night.
The longer snouts in the trough of plenty will be striking former health minister Sussan Ley off their Christmas list for bringing her foolish travel perks to notice. The government believes this bold move would immediately restore faith in the political class—oh how they dream. If they gave that money back to the pensioners they so eagerly raped on January 1, the very ones who toiled so dutifully all their life to pay errant pollies their lucrative perks, it might help a little—now that is dreaming.
Source: ABC
Senate scraps gold pass, votes to establish authority to oversee ex-politicians' entitlements
The Upper House also voted to establish an Independent Parliamentary Expenses Authority to oversee politicians' spending.
The measures are the result of a travel expenses scandal that plagued the Government in January and forced Sussan Ley to resign as health minister.
Politicians' entitlements explained
The Sussan Ley expenses scandal has reignited calls for tougher restrictions on politicians' entitlements — but what are they?
Special Minister of State Scott Ryan said the changes would restore the public's confidence in the system.
"Politicians must be accountable for their use of taxpayer dollars," he told the Senate.
"It is an important step in rebuilding and maintaining public trust in our use of scarce public resources in our job.
"These important and timely reforms will be delivered in the coming months."
The Parliamentary Expenses Authority will provide "frank advice" to politicians about what claims are legitimate and it will audit their travel expenses.
The Governor-General will appoint members to its board, and it will provide public reports every six months.
The Prime Minister had promised monthly reporting, but that will not be rolled out yet.
Gold passes scrapped despite Macdonald's opposition
In a separate vote, the Senate scrapped the gold pass that entitled former MPs and senators to 10 free return flights each year.
The move sparked fierce opposition from long-time Coalition senator Ian Macdonald, who accused his colleagues of bowing to populist pressure
"If we're to follow the populist approach, why bother with these hated, money-grabbing, self-serving politicians at all?" he said.
"Perhaps Hitler and Stalin or Idi Amin had the right idea — don't bother about a parliament and you don't have to bother about those pesky parliamentarians at all."
He said it was unfair to parliamentarians who had served in a time of lower remuneration "in a job where there's no privacy and no down time".
"I think history will show this taking away of rights retrospectively was wrong. It shouldn't be allowed in our society," he said in the Senate.
"I was never interested in the gold pass personally — my opposition was on behalf of a small group of elderly retired politicians who have no voice in this debate."
The Senate overruled his objections and voted in favour of abolishing the scheme.