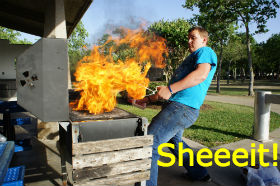 The RV, the barbeque and the cook!
Exclusive

By Chaucer
As promised, the first of a three-part tale about… well… about different people. I hope you get as much fun from it as I did recalling the incident. You may have similar tales to tell? Let us know!
No Grey Nomad, or RV group, or neighbourhood for that matter, is without at least one self-appointed barbeque king—the char-grill wizard. You know them; they have the latest machines with all possible attachments. Slide in, slide out this and that, including a kitchen sink, which are useless unless connected to plumbing and drainage, all costing nearly as much as a weekender on the coast. Sadly though, too many of these masters of the rotisserie are deficient in what really matters—fine taste, culinary skills and a cautionary sense of immanent danger.
Rituals of the barbecue are akin to man's rite of passage from his Neanderthal beginnings. Perhaps it's the freedom of outdoor cooking where barbie-bosses pit their expertise with costly cuts of meat and seafood against nature's most powerful and destructive element—fire. If only burning fat, fur and feathers that asphyxiated our ancient ancestors their caves was genetically imprinted in modern grill-masters, life would be much safer for all—as the reader will soon learn.
The weekend barbecue ritual for some surely casts doubt upon man's clarity of thought. Flies, smoke, paper plates, blackened food, scorched fingers and bloated sausages oozing grease are just some of the attractions that provide a peculiar enjoyment.
Mervin, my neighbour down the street, had taken delivery of his whopping new motorhome for the bargain price at almost $300,000. A brave purchase considering he had never been motorhoming before. In fact, he had never been camping before. But never underestimate the romantic lure to a grey nomad yearning to "get on the wallaby". Magic sunsets followed by celestial astonishment—fresh air—at one with nature—bold adventure, etc, etc!
To make a $300K purchase more palatable, the great rig came with a free home barbecue, although the motorhome already had one—it slid into a slot near the toilet cassette—sensible engineering. Mervin invited half the street to break-in his new, free home barbecue. The main reason was, of course, to establish a large degree of affluence and show off the many fancy gizmos on the formidable rig that dwarfed his house—viewed from the street.
When exploring the many secrets his camper boasted, Mervin became particularly excited with the 10,000kg recovery winch that could haul the entire truck up a cliff face, he reckoned, while running out the cable to check its length. It went as far as the garden tap in front of a lovely pine tree, through a double-gang pulley and back to the rig—a goodly distance.
Three or four neighbours had now gathered to admire. Choosing centre lawn for maximum envy, Mervin fired up the six-litre turbo diesel and selected reverse. Clearly, he had forgotten about the recovery winch. The water pipe bent at a perilous angle but refused to break as the big single-rear-wheels spun at about 50 kmph throwing steaming mud everywhere. Mervin was neither tender of foot nor smart of thought. The neighbours kept their distance anticipating more drama—and they were right.
Part two through the week!