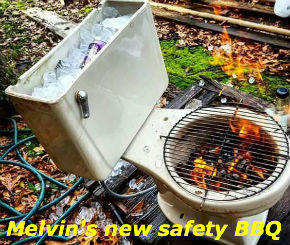 The RV, the barbecue and the cook—part 3
Exclusive
Some coals became Mervin's requisite white but some remained black and many had crumbled to useless ash. Things were not going well. "Quick! Send out for more charcoal, and get me another beer," yelled Mervin but nobody moved. Puddles of ooze leaching from the meat had now whipped the fly population to a feeding frenzy.
"Yah—damn," and worse shocked the ladies as Mervin seared his digits while adding more briquettes to the fire, "and for God's sake, someone bring me another beer." The coals remained stubbornly black.
Our neighbour was revealing a Jekyll and Hyde character as he screamed for yet another beer, and more lighter fluid. Fear and curiosity make strange partners.
It might have been culinary ineptitude, embarrassment or shameful inebriation that drove the chef to his sudden act of pyromania. Sloshing more fuel over the coals and more beer over himself he leapt back awaiting ignition. Nothing happened, except a spewing petroleum vapour that drifted through the hungry gathering. And then it did happened! A muffled "HARWHOOMPF" unleashing a fireball that chased after Mervin causing his hair to crackle.
It all seemed surreal, part of a special effect for an uproarious home movie. But it wasn't!
Mervin was fast coming undone imploring, "no big deal" as he swore loudly while jumping up and down like a frenzied marionette on his smouldering apron, bellowed for yet more beer. The flies had now gorged themselves to death and were floating in the warm marinade—the perfect incubator for botulism.
"Can't trust these bloody briquettes," he extolled while heaving meat, flies and all into the oily conflagration.
This was no dress rehearsal—and nobody was filming. Some began folding their chairs ready to bolt.
The grog had spiked Mervin's brain who then launched into a medley of bawdy sea shanties at hysterical pitch. The disaster gained momentum and although greatly concerned, few wanted to miss such a bizarre concert—it had become theatre. The excess lighter fluid had channelled into the nearby rose garden and flickered up the wooden stakes across a withered grape vine and crept along the fence.
The briquettes were now titanium white; cremating the food as the heat buckled the glowing drum and melted the chicken wire.
"I'll fix that in two seconds, just like the pro's do—water's the secret," a confident Mervin wailed as he snatched a tumbler from the table, dashing its contents, ice cubes and all into the blaze.
The Vodka ignited like napalm, blasting a fireball into the tree above invoking at last, a communal, "GASP!"
Beneath an extinguisher blast of white powder the fire was no more, as was the food. A quick thinker grabbed the garden hose and doused the fence.
As if nothing happened Mervin then vowed to make pizza for all. "The secret to good pizza," he informed the remaining few, "is to get the oven really hot—it's got to be red hot!" I bid goodnight and hurried home and watch that event on the late night news.
Mervin's motorhome remained on the front lawn cemented in the dried mud for months until one day a large crane arrived, picked it up and took it away—never to be seen again.
There's a huge sports-fishing cruiser with twin engines in the front yard now—Mervin is scouting the neighbourhood for crew.
"Not me mate, I get violently seasick," I told him!