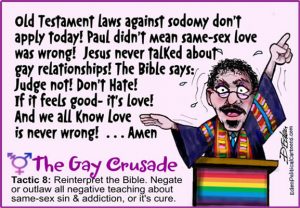 Religious Left strikes 'Toxic' statement affirming biblical view of sexuality
It never ceases to amaze that those who belong to a Christian church can come out in public and attack their own church's articles of faith and teaching but only if it involves sex. If it's about a left view of gay rights it is OK to go against church teaching.
It's likely that the same will happen here in Australia if gay marriage gets up, there will be Christian 'yes' voters demanding that their church gets with it.
A
merica's religious Left has issued a counter-statement to the recently-released Nashville Statement that affirmed the biblical view of human sexuality and was signed by scores of evangelical leaders.
The new statement, signed by various pro-LGBTQ theologians and activists, denounces the Nashville Statement as "toxic" against the Holy Spirit and redefines the nature ​of sin.
"A theologically liberal coalition quickly issued a counter-statement to the Nashville document. Going under the name 'Christians United,'" reports LifeSiteNews, "the leftist response reverses the historic Christian understanding of homosexuality as a sin and replaces it with the 'sin of exclusion,' of which it calls on the Church of Jesus Christ to repent."
The counter-statement's preamble offers up a fresh helping of post-colonialist, Christian Marxism that characterizes true Christians not by their outward virtue or their steadfast commitment to the Truth or their moral fortitude, but how their differences have excluded them from the inside groups.
Throughout our history, those who have been on the leading edge of the Holy Spirit's sanctifying work have often found themselves initially excluded, marginalized, and demonized by some of those within established Christian institutions. In the twenty-first century, we believe that the Church finds itself once again on the brink of a new reformation, one which in which the Holy Spirit is calling us to return to the Scriptures and our traditions in order to re-examine our teachings on human sexuality and gender identity.
They then go on to redefine this understanding of gender identity. From the statement's first Article:
WE AFFIRM that every human being is created in the image and likeness of God and that the great diversity expressed in humanity through our wide spectrum of unique sexualities and gender identities is a perfect reflection of the magnitude of God's creative work.
WE DENY any teaching that suggests God's creative intent is limited to a gender binary or that God's desire for human romantic relationships is only to be expressed in heterosexual relationships between one man and one woman.
Article 5 tackles transgenderism and says that rejecting one's biological sex remains faithful to God:
WE AFFIRM that while the male and female gender identity reflects a majority of the human family, God has created individuals whose gender identity does not fall on such a binary spectrum. We also affirm that there are many transgender individuals who are born with a physical body that is incongruent with their true gender identity, and these individuals should be supported and trusted in regards to their own self-knowledge of who they are and how God has created them.
WE DENY that forcing individuals to embrace a gender identity that matches the cultural assumptions based on their biology is a healthy practice and that the heterosexual, male/female binary is the only consistent reflection of God's holy purposes in Creation.
"Christians United" has been endoresed by the LGBTQ lobby Human Rights Campaign, which called the Nashville Statement a "vicious attack on LGBTQ people."