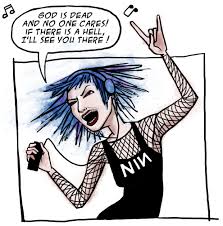 Lily Allen: grooming gang victims would have been raped 'by somebody else' if Muslim abusers were absent
There are those who are unable to empathise with others. As a result, their own needs and desires are of paramount importance. They are selfish, self-absorbed and narcissistic. They wish to draw attention to themselves by excusing excess by those that the left support and belittle those that are victims of those they excuse. Lily Allen is a classical example of this personality type. This personality type can be described as evil.
Pop singer Lily Allen has claimed Muslim grooming gang victims could have been "raped or abused by somebody else at some point" if the gangs were not active in the UK.
Ms. Allen also claimed that there is a certain "type" of rapist who attacks their stepdaughter and is 100 per cent "British white" during a discussion about Muslim rape gangs and immigration on Twitter.
Recent research by counter-extremism think tank Quilliam found that 84 per cent of grooming gang members are of 'Asian' origin, with founder Maajid Nawaz characterising them as "British South-Asian Muslim men".
 But when questioned about this reality, Ms. Allen sought to divert attention to the sexual crimes of others, and insisted the problem of sex abuse is so bad the victims of grooming gangs would have been attacked even if the gangs did not exist.
"Actually, there's a strong possibility they would have been raped and abused by somebody else at some point. That's kind of the issue," she tweeted, after a user asked her if the young victims would have been abused if the perpetrators had not been allowed into the country.
After a barrage of criticism, she deleted the messages, made her account private, and issued a partial apology.
"If there are any victims of abuse and particularly any girls or women from Rochdale who saw my tweet and were negatively impacted, I apologize, of course. Being able to accept responsibility and apologize is a strength, not a weakness," she bragged.
In another tweet, she claimed that "Type 2 Rapists" are 100 per cent "British white males," describing them as "men that have sex with their stepdaughters twice a week for years at a time … neighbors, uncles, gardeners, priests, fast food restaurant managers that do it over and over again."
She also proposed banning sports in response to claims about abuse in football.
"I think its time we talked about banning sport in this country. It's clearly putting our young men and boys at risk of abuse. #banfootball," she wrote.
Ms. Allen is a well know pro-mass migration activist who has stirred controversy before.
In October 2016, she went on the BBC "apologised" on behalf of the entire United Kingdom for the migrant crisis, before telling a Jewish man on Twitter he should be "twice as ashamed" because of his religion.