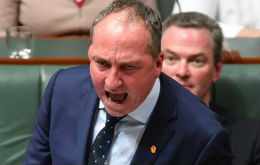 Politics Oz style: has it ever been so disgusting?
Paul Keating once said Australia would end up a banana republic. How prophetic?
The lead paragraph in the Oz reads: The union movement is preparing to campaign against Barnaby Joyce in New ­England should a by-election occur there in the coming weeks, with independent Tony Windsor expected to be the beneficiary of that support.
The High Court is expected to decide the fate of the dual-cit seven politicians to remain in parliament later today. Deputy Prime Minister Barnaby Joyce pretends not to be overly concerned—he should be. The unions' plan to wage against him if the court decision is negative.
However, one point of view might welcome the dismissal of tomato head languishing on that green leather parliamentary bench, bloated and red faced, working up foaming spittle as he rattles on at breathless pace, an incoherent tirade of bumble. The once thought loyal crusader for his electorate turned disingenuous slob. Lickspittle to the politically disastrous Turnbull. Did nothing with the senate Halal recommendations. Sold out his supporters on many matters. Regardless of the High Court decision parliament should rid its chamber of political dross. Including the sullied and potential aspirant Tony Windsor. "… And its foulness spreads over all."
*****************************************************
Source: News Corp
Unions ready to campaign against Barnaby Joyce
ACTU secretary Sally McManus confirmed yesterday that the peak union body would be considering "what assistance we provide in any by-election in New England". "Mr Joyce has championed policies that have seen jobs offshored, outsourced and casualised, while people can't get a pay rise," Ms McManus said.
"The National Party has sat on its hands while entry-level jobs for young people have been taken by temporary visa holders, issued by their government.
"Mr Joyce has supported privatisation, and stood for the interests of big power companies who are making eye-watering profits off the back of regional Australians who are paying inflated power bills."
But such a campaign might be in vain, with political sources ­indicating Mr Joyce would still very much be the frontrunner in any contest for the northern NSW electorate.
With Labor likely to "run dead" in the seat, in order to ensure an independent candidate, such as Mr Windsor, finished second, giving that candidate a better chance of winning on preferences, union campaign backing would be critical to see Mr Joyce defeated.
At last year's federal election, Mr Joyce was not even taken to preferences, winning 52 per cent of the primary vote to defeat Mr Windsor. Three years earlier, Mr Joyce replaced Mr Windsor when the former switched from the Senate to the lower house.
An Australia Institute poll in the seat in mid-September had Mr Joyce at 44 per cent and Mr Windsor at 26 per cent, with the Nationals winning on a two-party-preferred basis by 57 per cent to 43 per cent.
The Nationals have been polling the seat recently and are understood to have seen favourable results. Nationals operatives in NSW are preparing for a High Court decision on the citizenship difficulties of Mr Joyce and others to come down in about a month, after which they know they may well have a by-election on their hands.
Yesterday, the High Court, sitting as the Court of Disputed ­Returns, was told by Solicitor-General Stephen Donaghue that Mr Joyce didn't know until ­recently his father was a New Zealand citizen and had renounced that citizenship nearly 40 years ago. The government is arguing that Mr Joyce should not be disqualified because he did not voluntarily obtain or retain foreign citizenship.
Mr Windsor, who was the independent MP for the seat from 2001-2013 and who helped keep Julia Gillard in power in a minority-government situation in the last three years of that time in office, has not ruled out running for the seat — as he did unsuccessfully in 2016.