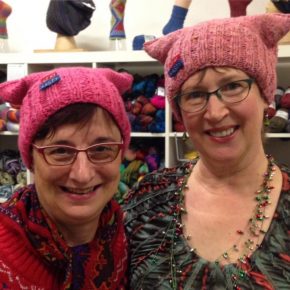 In the the misspent youth of many a young Australian there was a time when there was considerable interest in jazz. The young would mention names like Stan Kenton and the Dutch College Swing Band as if they knew the difference between a diminished fifth and a bottle of tomato sauce. But. Inevitably there would come a day when you would mention a musician and be met with a withering remark, "he's gone all commercial."
What it really meant was that he was no longer cool, and the really cool would gravitate to a band that relied heavily on a xylophone and two snares.
These thoughts come to me when I read about the Pink Pussy Hats and see the puritan streak coming out.
Pink Pussy Hats promoted everything that is way out there in the name of feminism, you were not 'in' unless you had a Pink Pussy Hat. Now, you are out if you wear a Pink Pussy Hats for it is no longer politically correct. The Womenn's March group in Florida has denounced them. A fatwa has been pronounced.
"The Pink Pussy Hat reflects the notion that because vagina = vagina, therefore both = woman. This is no longer correct. Additionally the Pink Pussy Hat is white-focused and Eurocentric in that it assumes that all vaginas are pink – this is also incorrect."
This must be the New Maths.
It takes a bit of understanding but according to the new dogma not all women have vaginas – because some women are actually men. Yes, you can see their point. Also the hats discriminate against ladies of color who do not share this tint down there with her fellow marchers. Therefore, it is easy to see, once it is explained like that, the hats represent "exclusionary white feminism."
It's even worse – the expression is now heard, "Pink Pussy Hats are so 2017."
It's a terrible shame, but many men regret the passing of the Pink Pussy Hats. It enabled them to recognise and stay away from such a person in the workplace.
Male Neanderthal pig one might be, but a shrewd, level-headed, Neanderthal pig. And you wouldn't touch anyone who wears Pink Pussy Hat with a forty-foot pole.
Now how are we pigs to know?
Perhaps if they wore hats like this however….