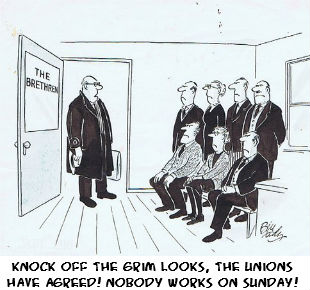 Taking a penalty.
Why all the fuss about penalty rates for working on Sunday?
Anyone who has seen Chariots of Fire will remember the central issue in it.
Eric Liddell, a young Scot in training to be a Minister of the Church and selected for an event in the Olympic Games, refused to go further when it transpired that he was to compete on a Sunday.
To him there was to be nothing done on Sunday Sunday was to be given over to rest from labouring, to family, to reading his Bible…

He was part of the spirit of his time, and the time before his time, and the time before that time too.
Those with a taste for 19th century literature will recall reading that working on a Sunday was the Wrong Thing. Profane. Agitation was common that trains must not run on Sunday.
What makes Sunday so different that you have to get double time for working on it? Is it much hotter on a Sunday? Is work more enervating? Does it age you prematurely? Does it rain more, does the wind blow more strongly, are sounds harsher, does the light blind you, do citizens mock you?
Occasionally, when questions like this and the worries of the world generally settle on my shoulders like a flock of pecking ravens, I turn to my old hookah, get my quart of medically approved bong water, and think and think.
And what I think is that the Labour Parties of every country, working through secret meetings with the Lords Day Observance Society, conspired to take us back to the Victorian age. Together they worked to decree Sunday as a Sacred Day. A Sacred Day for worship, and a Sacred Day for gouging Wages Penalties.
It was a sure fire winner. Morality added to union demands. Suited the unions and suited the Lord's Day people – if you are not working then you have more time to worship and read your Bible.
It's the very same principle that applies on cigarette duties. Keep raising the tax on ciggies and you have eliminated smoking in the end.
Keep raising the penalty for working on Sunday and you eliminate Sunday trading.
As a gesture to the Jews among us, Labor organisers decreed in their sacred writing, called The Awards, that Saturday should be a semi-sacred day and it is time and a half on that day.
This was so successful, so readily accepted by society, that they looked further to sanctify other times. They then made the Hours of Moonlight, or "Night" as it is prosaically known in The Awards, to have penalties attached to those hours too.
The penalties are thrashed out and settled by the representatives of those who work during those times and those who have to pay them.
So, without realising it, mankind came to see that the days of the week and the hours of the day could be categorised and divided and sliced and diced into hours of work, and hours of no-work. Exemptions were given to the days and hours of no-work by paying higher wages.
Pay more money for work on these arbitrary times and you could employ people.
There was no excuse for it, no reasonable rationale, no justification. It just was. Just is.
That is why when you visit a country town say on a Sunday, the place is deserted. There is one coffee shop open out of maybe a dozen. All the other shops are shut.
That is why platoons of workers are available for working Saturday and Sunday only. As far as they are concerned they make enough to take five days off.
Sunday is a day to remember and reflect how industrial power restored observance of the Lord's Day.
You were penalised in the old days for not recognising the Lord's Day; you still are – it's just that the one paying the penalty has changed.