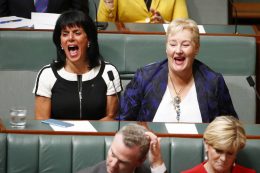 Bullying is the latest diversion
A good time in parliament with Banks and Sudmalis—the only ones laughing.
The people of Gilmore on the NSW South Coast might be well pleased that the sitting Member Ann Sudmalis who now claims to have suffered bullying has followed her politico mate Ms Banks, also bullied, will quit at the next election. It doubtfull that Sudmalis will be missed at all. Sudmalis in parliament frequently distinguishes herself as the village buffoon causing the speaker to tell her to shut up. Nobody viewing Question Time has any idea what she yells about. It's very much like when dogs bark others are compelled to join in.
A war of words has erupted between two Liberal politicians over allegations of bullying and branch stacking, with one accusing the other of exaggerating claims of bullying just because she was upset about losing support of party members. [More]