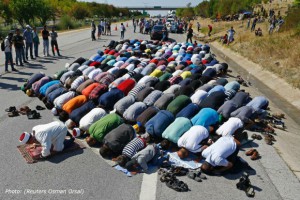 Refugees: Labor's welcome mat
If this was in France bigger riots on the streets would happen!
This chilling tale by Simon Benson in The Australian today should have all but the bloody Greens choking on their breakfasts. Clearly, lessons from the European experiment with refugees are being ignored by a two-bit Labor hack whose only goal in life is to sit his bum on the parliamentary throne—nothing to with the nation's welfare and prosperity. Are voters really that stupid??
The pledge to end Labor's boat arrivals hangover by offering the remaining asylum-seekers permanent residency through the abolition of the government's temporary protection visa system came as The Australian established that the cost of managing the ongoing caseload of applicants had reached more than $2 billion.
It will please all those pensioners that the Coalition stripped when they moved the assets test goalposts. And, to watch the bloody hypocrite Josh Frydenberg yelling across Parliament at Labor for wanting to further rob pensioners makes one sick—sick of those damned liars. Good morning! [More]