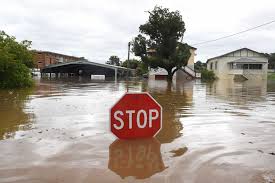 SE Queensland:
water, water everywhere and not a drop was saved
When will we ever learn?
Yes, a disastrous continuum at the hands of those bloody Greens to halt the prosperity of this nation. And that damned fool Tim Flannery and his expensive and erroneous predictions.
"The people are out of the cars that is the main priority."Another two people had to be rescued from floodwaters at Maleny, while a woman were rescued from their car after it was swept away by floodwaters at Kobble Creek north-west of Brisbane. In Brisbane, cars have been stranded in low-lying areas, where drivers continued to ignore safety warnings. Mt Gravatt had the most rainfall with 112 millimetres over Thursday night into Friday.
The Conversation October 27 2014: The agricultural green paper released last week proposes 27 new water and irrigation projects, which the government claims will be necessary for Australia's agricultural expansion. The emphasis is firmly on dams, with federal agriculture minister Barnaby Joyce arguing that "water is wealth and stored water is a bank". Joyce also implied that dam-building has hit a slump, blaming the environmental movement's hostility to dams. [More]