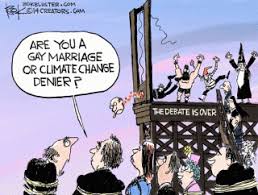 Oregon Court Upholds $135,000 Fine Against Christian Bakers Who Refused to Bake Gay Wedding Cake
Before reading the article below which may cheer up MM readers, this tale thanks to Tim Blair.
Even those who oppose same-sex marriage might applaud the recent union between Matt Murphy and Michael O'Sullivan.
The pair exchanged vows for all the right reasons:
Two Irish men have married in Dublin to avoid paying €50,000 in inheritance tax on a house.
Best friends Matt Murphy and Michael O'Sullivan are both heterosexual, but decided to get married when they discovered how much tax would have to be paid on the house Murphy, 83, intended to leave in his will to O'Sullivan, 58, who is his carer …
During the wedding ceremony O'Sullivan spoke of his husband's great kindness, while Murphy sang Willie Nelson's Let the World Go By: "With someone like you, a pal good and true / I'd like to leave it all behind and go and find / A place that's known to God alone."
O'Sullivan said after the ceremony: "I love Matt and he loves me, as friends."
As in Ireland, Australia's same-sex legislation may have cleared the way for a matrimonial sub-genre – the "mate marriage".
No such luck for two Christian bakers:
T
he Oregon Court of Appeals has upheld a $135,000 fine against two Christian bakers who were ordered to pay the money to a lesbian couple after declining to bake them a gay wedding cake in 2013, before gay marriage was legal in Oregon.
According to court filings, the lesbian couple said they felt "mentally raped" after Aaron and Melissa Klein declined to bake their wedding cake.
The Kleins are evangelical Christians. their lawyers argued in court that the government's penalties against the Kleins violated their rights to free speech, free exercise of religion, and due process under the U.S. Constitution.
"Freedom of expression for ourselves should require freedom of expression for others," declared First Liberty Institute President Kelly Shackelford following the Oregon Court of Appeal's ruling. "The Oregon Court of Appeals decided that Aaron and Melissa Klein are not entitled to the Constitution's promise of religious liberty and free speech."
As previously reported by Breitbart News' Tom Williams, "Aaron and Melissa Klein, owners of Sweet Cakes by Melissa, were found guilty of discrimination in 2013 of for refusing to bake a wedding cake for a same-sex couple because it violated the tenets of their Christian faith."
The court sentenced the Christian couple to a fine of $135,000 for the "emotional damage" they had allegedly caused the lesbian pair. Rachel Cryer-Bowman and Laurel Bowman-Cryer had accused the Kleins of "mental rape," adding that they had suffered a "loss of appetite" and "impaired digestion" from the ordeal, which remarkably led to simultaneous "weight gain."
Though the couple repeatedly served customers of any sexual orientation, they did not feel comfortable custom-designing the wedding cake for a same-sex ceremony. They likewise have declined to customize cakes for divorce parties, bachelor parties, and even Halloween — anything that is inconsistent with their personal understanding of their Christian faith.
"We lost everything we loved and worked so hard to build," Melissa Klein proclaimed following the incident.
The case will likely now be appealed to the Oregon Supreme Court. A similar case from Colorado is currently pending before the U.S. Supreme Court.
There have been numerous other instances of Christian bakers receiving penalties for refusing to bake gay wedding cakes, including one case in Colorado, a case in Northern Ireland, and a case in California.
Charlie Nash