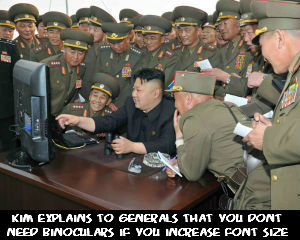 June was an interesting month for North Korean defectors. The civilian exodus went on as before but the soldiers got into the act too.
Generally civilians slip into China and then go into hiding there.
But soldiers who defect get special treatment. They can go where they like once they have told all they know.
The last one was even more different – he had been selected to join a special security unit and assigned to guarding a luxury compound belonging to Kim himself. He is a prize.
Why are soldiers defecting?
Same reason as they others, they are starving.
Yep, even in North Korea the soldiers still complain about rations.
"Who called the cook a bastard?" North Koreans Sergeants call out angrily.
"Who called the bastard a cook?" The soldiers respond in an "organised moan".
MM can reveal, to its readers only, that it has secured details of the Macca plan.
Basically a chain of Hungry Jacks, Maccas, and KFC's will ring the North Korean borders with Russia and South Korea.
Behind these fast food outlets huge fans will blow day and night towards North Korea.
A chain of loudspeakers will offer free cheeseburgers and chicken nuggets to defectors.
The plan is known to the NK government who have dismissed it saying that North Koreans will never starve as long as there is grass to eat.
MM trusts its readers to keep this secret information to themselves for now.