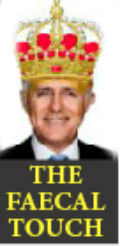 Morning Malcolm, why so glum chum?
The 23rd consecutive nose dive!
Malcolm Turnbull has suffered a horror slump in support as the ­citizenship crisis engulfs parliament, with voters slashing his lead as preferred prime minister at the same time as he faces new threats to his authority and signs of cabinet division over his leadership.
Extra sugar needed in big Mal's coffee this morning to mask the taste of crap. At the other end of town Tony Abbott might be slapping another dollop strawberry jam and cream on his hot scone as he eyes the razor-sharp knife laying on the breadboard—put there by a joker. It wouldn't surprise if Turnbull never came home given the mess evolving on so many fronts. On the other hand massive egos know no bounds. If Mal could extricate himself from his tomb of merde, oh what a hero to be—a victor over all odds—a veritable miracle among mere mortals. God forbid!
Source: News Corp
Newspoll: Malcolm Turnbull in horror poll slump
Voters have delivered a damaging blow to Mr Turnbull's standing as preferred prime minister, cutting his rating from 41 to a new low of 36 per cent and narrowing his lead over Bill Shorten to just two percentage points.
In its worst result since February, the Coalition now trails Labor by 45 to 55 per cent in two-party terms in a swing that would cost the government more than 20 seats, just as it prepares for another snap by-election in a bid to keep its slim majority in parliament.
The latest Newspoll, conducted exclusively for The Australian, shows the Coalition's primary vote has fallen from 35 to 34 per cent after a fortnight of bitter argument over citizenship, only the second time core support has fallen so low under Mr Turnbull's leadership.
The government heads into the next weeks of federal parliament with its control of the lower house under grave threat, setting up a challenge to Mr Turnbull's authority that could fuel Liberal Party divisions over his leadership.
The sudden resignation of Liberal backbencher John Alexander on Saturday could see a by-­election called as soon as today, with the government hoping for a ballot on December 16 while vowing to refer Labor MPs to the High Court to set up more by-elections early next year.
Labor warned last night it could "go nuclear" in the citizenship row by targeting government MPs with doubts over their citizenship, in a sign of Mr Shorten's willingness to take the fight to a series of by-elections if necessary.
The latest Newspoll puts Labor in its strongest overall position since Mr Turnbull replaced Tony Abbott as prime minister in September 2015, with the Labor primary vote rising from 37 to 38 per cent at the same time Mr Shorten gains ground on key leadership measures.
While Mr Turnbull has kept his lead over Mr Shorten as preferred prime minister, he suffered a fall in support on this key measure of five percentage points to 36 per cent in the past two weeks, a significant shift outside the margin of error for this survey.
The gap between the two leaders has narrowed to just two percentage points compared to eight points two weeks ago and 17 points at the end of August, taking Mr Shorten the closest he has ever been to regaining the lead he ­enjoyed over Mr Abbott as preferred prime minister.
The results come after weeks of dispute over the citizenship saga, including a damaging cabinet leak about a warning from Scott Morrison that the handling of the issue could drive the Coalition out of power.
This is the 23rd consecutive Newspoll where the Coalition has trailed Labor on the two-party vote, a tally that Mr Turnbull emphasised when he named the loss of "30 Newspolls in a row" as a reason for challenging Mr Abbott for the Liberal leadership.
Mr Turnbull sought to escalate pressure on Mr Shorten yesterday over at least four Labor MPs who could be referred to the High Court over their citizenship, threatening to use the government's numbers to force the referral and clearing the way for a series of by-elections early next year.
"There is no question that Labor has a number of members who not only were, but knew they were, foreign citizens at the time they nominated for parliament. That makes them ineligible," Mr Turnbull said yesterday while in Hong Kong.
"Now, if they believe they can persuade the court to take a somewhat different tack, good luck to them. But the place to determine that is in the court.
"Bill Shorten has got to stop running a protection racket for his own dual citizens."
Labor responded last night with a vow to "go nuclear" in the citizenship brawl by targeting at least five "foreign" government MPs who should be driven from parliament, setting the scene for a clash in the House of Representatives when it resumes on November 27.
Pauline Hanson's One Nation increased its primary vote from 9 to 10 per cent, its highest result since July, while the Greens saw their primary vote slip from 10 to 9 per cent.
The combined effect of the changes in primary-vote results led Labor to gain ground in two-party terms, leading the Coalition by 55 to 45 per cent compared to 54 to 46 per cent two weeks ago.
At 34 per cent, the government's primary vote is eight percentage points below its result at the last election and has returned to the depths seen in February, showing the government has gained no ground this year despite seeking to campaign on national security, energy policy and business tax cuts while holding a postal vote on same-sex marriage to resolve years of division on the issue.
The latest Newspoll, conducted from Thursday to Sunday, found the number of voters who were satisfied with Mr Shorten's performance rose from 32 to 34 per cent, while the number of dissatisfied voters fell from 56 to 53 per cent.
Mr Shorten's net satisfaction rating — the difference between those satisfied and those dissatisfied with his performance — improved from minus 24 points to minus 19 points over the past fortnight.
Mr Turnbull suffered a reversal on the same measure, with the number of satisfied voters falling from 31 to 29 per cent while the proportion of dissatisfied voters fell from 59 to 58 per cent.
Mr Turnbull's net satisfaction deteriorated from minus 28 to minus 29 points, his worst rating on this measure since a Newspoll conducted at the end of February, when his net satisfaction was minus 30. The Newspoll survey of 1625 respondents has a margin of error of 2.5 percentage points.
Labor citizenship spokesman Tony Burke blasted the government's threat to refer MPs to the court as a "born-to-rule ­approach" and said all of the Labor MPs would be found to be eligible because they had taken "reasonable steps" to renounce any foreign citizenship. "The difference is this: those who are in the spotlight for the Labor Party took reasonable steps before the nomination date," Mr Burke said.
"Those who are in the focus from the Liberal Party took no steps at all before the nomination date. No steps at all."