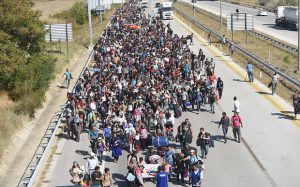 Your choice – unrestricted Europe migration or the pox!
Every day stories come out of Europe detailing the disaster facing native Europeans. How Governments can keep letting in a disaster in such volumes is beyond belief. Two things can be said – politicians everywhere are driven by ideologies – not common sense – and secondly the Dutch, German, French and Italian citizens are not happy little campers.
A
uthorities in two German states have expressed concern over official figures showing a huge rise in migrant crime, with the number of violent attacks having almost doubled in 2016.
"Refugees really entered onto the crime scene last year," said Baden-Württemberg State Criminal Police Office (LKA) president Ralf Michelfelder.
"We are very worried about the rise in violence by asylum seekers," the police official added. The comments come following the release of figures which reveal a 95.5 per cent spike in the number of physical attacks carried out by asylum seekers and migrants.
Around 60 per cent of the assaults take place in asylum accommodation but the other 40 per cent are carried out among the general public.
This group of migrants are also heavily represented among people caught for theft and drug offences, according to this year's statistics. But "they can now be found as suspects of crimes in almost every field", according to the police official.
Of a total of 251,000 criminal suspects across the state in 2016, 107,417 were foreign, with 25,379 of these being asylum seekers and refugees. Syria was the most frequently seen country of origin in the latter category, followed by Gambia, and then Afghanistan.
In Bavaria, the number of crimes committed by immigrants rose 57.8 per cent from the previous year, a development which the state's Interior Minister Joachim Herrmann described as "worrying".
"The increase in crime in Bavaria in 2016 is mainly due to foreign suspects, especially immigrants," the minister said. There had been a 3.3 per cent overall rise in the number of crimes statewide (the figure adjusted to remove offences like illegal immigration).
The number of homicides in Bavaria increased by 15 per cent in 2016, while violent crimes carried out by asylum seekers rose by 93 per cent to 3,495 cases.
Of thefts which occurred across the German state, 42.8 per cent of suspects were of foreign origin — an almost 1 per cent rise from the previous year.
Earlier this year, the Berlin Senate launched a formal inquiry to find out why migrants are overrepresented in the city's police crime reports compared to Germans.
According to Germany's Federal Police, the influx of newcomers from the third world since Europe's migrant crisis directly led to an increase in crime within their jurisdiction.
Plans to build a new police station in Rinkeby have been put on hold because construction companies fear for the safety of their workforce in the migrant-dominated Stockholm suburb.
The city earmarked the site of a former nursing home as the location for the new station. But construction companies failed to bid for the project, not wanting to risk having to work in a neighbourhood notorious for gang and gun crime.
"It's too dangerous to build a police station in the area," SVT News was told by a number of police officers who wanted to remain anonymous.
"It would have to be guarded around the clock. This is because not only is there the risk of theft, but also the danger and threat to staff who will be working on the construction project," the public broadcaster was told.
A new station employing 240 officers was due to be opened this summer in Rinkeby, with plans for the new building drawn up not long after the closure of the suburb's previous police station in 2014.
Local imam Hagi Mohammed Farah expressed disappointment at the delay, telling SVT: "It's a very difficult situation here at the moment with regards to justice and the rule of law.
The leader of Italy's right wing populist Lega Nord party has accused the left of having "blood on its hands" after a fire in a migrant camp claimed the lives of two African men.
The two men were residents of the "Big Ghetto", a shanty town near San Severo in southern Italy inhabited mostly by migrant agricultural workers.
The town, which has been in place for nearly two decades, was made up mostly of makeshift huts constructed from wood, cardboard, and plastic. It was engulfed in flames within minutes after a fire broke out on Thursday night, according to local reports. The two men killed are thought to have been from Mali.
Commenting on the incident on Facebook, Lega Nord's Matteo Salvani didn't hold back in his condemnation of the left, who he blamed for encouraging migrants to flock to Italy only to work for a pittance in precarious circumstances.
"Two immigrants from Africa, exploited as slaves in the countryside […] are dead tonight because of a fire (the seventh!) in the slums where they lived, in the province of Foggia," Salvini wrote.
"More blood on the hands of the 'bleeding heart' left, who encourage thousands of wretches to come to Italy, promising them everything and leaving them to die."
His solution: "Stop the departures, block the boats, deport the illegals, fight the traffickers, implement a minimum wage to prevent slavery and exploitation, and to defend Italian agriculture.
"It can be done, and, in fact, it should be."
Salvini's broadside comes just weeks after the European Union's own border service, Frontex, admitted that search and rescue (SAR) operations in the Mediterranean Sea are perversely increasing the number of migrant drownings, as reliance on rescue ships is prompting smugglers to use ever less sturdy vessels to transport their human cargo.
The Frontex Risk Analysis for 2017 admits: "SAR missions close to, or within, the 12-mile territorial waters of Libya have unintended consequences.
"Dangerous crossings on unseaworthy and overloaded vessels were organised with the main purpose of being detected by EUNAVFOR Med/Frontex and NGO vessels.
"Migrants and refugees – encouraged by the stories of those who had successfully made it in the past – attempt the dangerous crossing since they are aware of and rely on humanitarian assistance to reach the EU."
According to UNHCR figures, 487 people died or went missing in the Mediterranean Sea attempting to cross to Europe between 1 January and 5 March this year.
"We need police here in order for people to feel safe. A police station acts as an important symbol in society, like a school or a health centre."
In December, residents held a two-day rally to protest against rising violence in Rinkeby, where 90 per cent of people were either born abroad or to two foreign parents.
At the event – which was called after the suburb saw 22 murders take place in less than two years – speakers blamed politicians' 'inaction', and colonialism for the violence plaguing Rinkeby.
Activists handed a list of demands to MPs, asking the government to provide "jobs, housing and schools", invest in more psychosocial workers and psychiatrists, and for gun laws to be made even more restrictive.
Concerned about the nation's image abroad, state broadcaster Sweden Radio recently aired a programme in English which claimed that No-Go Zones — dangerous suburbs where police fear to tread — don't exist in the country.
S
wedish Welfare State Funding Islamic Terrorism
A new damning report shows that multiple Islamist fighters who have travelled from Sweden to fight in Syria and Iraq have been the beneficiaries of welfare payments from the Swedish government.
The new report created by the by the National Defence University on behalf of the Financial Supervisory Authority (FSA) shows that around 300 Islamists have claimed benefits by using others to give the government the impression that they are still in Sweden despite the fact that they are in Syria or Iraq fighting for jihadist groups, Swedish broadcaster SVT reports.
Terrorist researcher and one of the authors of the report Magnus Ranstorp said the problem isn't just limited to Sweden. Commenting on the results, he said: "it was not surprising, we have seen the same pattern in other countries. Most surprising was that almost all had it in some form. But it is the monitoring that needs to work better. The problem is that there is too little follow-up."
The 300 individuals covered in the report traveled from Sweden to the Middle East between 2013 and 2016, and are thought to have participated in fighting for groups including the terrorist Islamic State.
Housing allowances, child support, student loans, maintenance and parental benefits are the most common types of benefits earned by the Islamists, often collected by a third party with the money then sent to them overseas. " It's not big money, they do not get rich on it, but it can go a long way in a conflict zone," Ranstorp said.
Police say that student loans, in particular, are an issue because the fighters can game the system by pretending to be going overseas to study and receive large lump sums from the Swedish government. Swedish Minister for Upper Secondary School and Adult Education and Training Anna Ekström said the problem was "totally unacceptable. No state funds will be used for something that is in the vicinity of terrorism. We must take hold of this immediately. We are preparing now to go to the parliament and ensure that the government gets the opportunity to ensure that we do not pay out such large sums at once."
Sweden has seen at least one case in which the government paid a jihadi before. Late last year, Muslim convert Michael Skråmo was revealed to have been paid £4,300 by the government since leaving for the Middle East in 2014.
The Swedish government has also essentially legalised the flying of the Islamic State flag after a Swedish court refused to prosecute a man who displayed the symbol on his social media account as a promotion of the terrorist group.
In 2015 it was shown that the Swedish city of Gothenburg sent more Islamists to the Middle East per capita than any other city in Europe.
A
n 18-year-old Somali asylum seeker is said to have sexually abused two elderly men in a retirement home and attacking the wife of one of the men leading to her death. He will now go to trial.
The Somali is said to have entered a retirement home in the town of Neuenhaus at around 3 am on 22 October of last year by sneaking in through an unlocked door. He is accused of then proceeding to sexually abuse two elderly men and beating an 87-year-old woman, Neue Osnabrück Zeitung reports.
In a press release, the Osnabrück prosecutor said that the asylum seeker first entered the room of a 59-year-old man who was half paralysed by a stroke, touching him inappropriately. Police say he had the intention of raping the man. He then moved on into another room where he sexually abused an 87-year-old man.
After noticing that the man shared a room with his wife, the Somali teen beat her bloody, fearing that she might shout out and he would be caught. She was hit so hard that the prosecutor said she later died after choking on her own blood.
The 18-year-old was caught in the hallway of the home by one of the nurses on duty, but fled the scene before police could arrive. He was arrested later that day.
According to Alexander Retemeyer, spokesman for the prosecution office, there was no previous connection between the attacker and his victims.
The public prosecutor's office has announced that the asylum seeker will be put on trial for murdering the elderly woman. He is currently being held in a psychiatric hospital.
The horrific case is not the first time a senior has been sexually abused by a young asylum seeker. In Austria, a 17-year-old Afghan asylum seeker raped a 72-year-old woman who was out walking her dog. The migrant received only 20 months in prison and, because of the short sentence, was not eligible for deportation.
Just over a year after the brutal attack, the woman was revealed to have suffered continued illness due to the attack. The victim's daughter of said her mother's health had rapidly deteriorated after the attack, and that she was being fed via a feeding tube. She added that her mother's "body, mind, and especially her soul has given up."