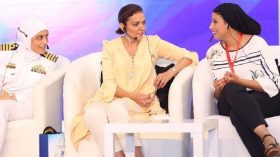 Meet the new "EgyptianGate"
Sneaking away to a far off land of questionable human rights, camel sh*t and sand fleas to be fêted by a foreign nation as fine examples of Egyptian feminine achievement are Australia's dedicated patriots fuelling their egos. Furthermore, the controversial Captain Shindy, the Director of the Navy Materiel Seaworthiness Assurance Agency (is that where they dumped her?) and former Muslim face of the Australian Defence Force's diversity push who was sent to a back cabin at the naval dockyard has popped up in Cairo, in Australian Navy number-ones. Also there was Dr Anne Aly, the WA MP who surprised all last week with a fake-looking document from the Egyptian Embassy alluding to her non citizenship status. Anyone reading the following article may accept 'coincidence', however, given Anne Aly's association with Egyptian authorities many will believe the creation and backdating of any such document could be effected via a simple phone call.
Labor MP Anne Aly accepted more than $3000 in flights — ­including a trip to Cairo in July — from the Egyptian ­embassy, which last week issued a statement clearing her of being a foreign citizen.
Egyptian embassy funds Anne Aly's trip to Cairo
The MP, who holds the marginal West Australian seat of Cowan by 0.7 per cent, last Friday produced an unsigned letter from the Egyptian embassy declaring her dual citizenship had been ­relinquished two days after she lodged a request on May 4, 2016.
Fresh questions have emerged over Dr Aly's citizenship status, with legal experts quizzing ­whether the document confirmed she had satisfied key tests in Egyptian nationality law, specifically article 10, article 16 and article 22.
Constitutional law expert ­George Williams told The Australian there were a "number of MPs" who had come forward with "unverified statements as to whether they have renounced or hold citizenship under foreign law".
He warned that documents from foreign embassies produced by MPs could not be taken as proof that dual citizenship had been relinquished according to the legal mechanisms of a foreign country, following the High Court's strict interpretation of section 44 of the Constitution.
The Egyptian embassy picked up the bill for a $2380 return Perth-Cairo airfare last July, allowing Dr Aly to attend an Egyptian Women Abroad conference.
The Defence Department confirmed last night Mona Shindy — formerly the face of the Australian Defence Force's diversity push — also went to the conference, invited by the Egyptian government "which funded the travel and accommodation".
The event, to mark the International Year of Women, was an initiative of the Egyptian government. It featured 32 women speakers from around the world in a bid to highlight the role of expatriate Egyptian women and encourage participation by women in Egyptian society.
Captain Shindy, the Director of the Navy Materiel Seaworthiness Assurance Agency, courted controversy in 2015 as the Chief of Navy's strategic adviser on Islamic affairs when she used an official Twitter account to air political views on subjects such as Islamist-led terror attacks and the then prime minister Tony Abbott.
She was widely criticised at the time, including by Dr Aly, then an associate professor at Curtin University, who argued that public servants should never express themselves politically.
While in Cairo for the conference, Dr Aly received two nights' accommodation at the luxury Al Masah Hotel provided by the Egyptian Ministry of Immigration and the National Council of Women, worth $620, and received transfers valued at $200 during her trip.
Dr Aly also received a return economy flight between Perth and Canberra, paid for by the Egyptian embassy, to attend last year's reception for the 65th anniversary of Egypt's national day.
Melbourne University law ­professor Jeremy Gans questioned whether the document produced by Dr Aly last Friday satisfied the key tests for the ­relinquishment of Egyptian citizenship set out in Egyptian nationality law.
He argues that, under article 10, an Egyptian can acquire a foreign nationality only if they receive permission by a decree of the Minister of Interior. Failing this, the person would continue to be regarded as an Egyptian citizen.
The relinquishment of Egyptian citizenship under article 16 would require the issuing of a decree by the "Ministers Council" — and this can only be issued in certain circumstances. Article 22 states that all decrees concerning the withdrawal of Egyptian nationality need to be published in the "official journal within 30 days from the date of their issuance".
In an article for the Inside Story website last Friday, Professor Gans wrote: "What is required in every case is a government decree. Aly's register has no proof of the date of any decree by the Egyptian government, in particular whether it occurred before she nominated (on 9 June 2016). Worse, there's no proof that the decree has been made at all. She may well still be Egyptian".
A spokeswoman for Dr Aly said last night: "All information has been declared in line with disclosure rules."
Fresh questions have been cast over the status of two other Labor MPs — Emma Husar and Emma McBride — whose entries in the foreign citizenship register show both sought to renounce their foreign citizenships but lacked any documents showing that their ­applications were acted upon.
Ms Husar holds the western Sydney seat of Lindsay on a margin of 1.1 per cent while Ms McBride holds the NSW central coast seat of Dobell by 4.8 per cent.
NSW Liberal MP Jason Falinski, who holds the safe seat of Mackellar on Sydney's northern beaches, is also under pressure to prove he is not a Polish citizen. He has produced a letter from the Polish ambassador stating that he was "not entitled to the rights or privileges of Polish citizenship", with his lawyers using his father's status as an illegitimate child to buttress his case.
Mr Falinski's father was born in 1943 in Tokmok, then part of Russia, to Polish-born father Leon and Russian-born mother Maria. The family moved to Poland in 1946 before emigrating to Australia in 1958 with Polish law stating that a child born to a Polish parent automatically acquires citizenship at birth.
While National Archives documents state that Mr Falinski's grandparents were married, Mr Falinski claims they never married but stated in documentation that they had done so to protect their son from the shame associated with being born out of wedlock.