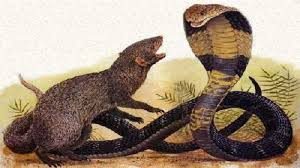 Mark Latham: 'Labor rat' or dangerous mongoose?
As Grace Collier writes, someone with nothing to lose needs to be taken seriously indeed. That Mark Latham now treads the launchpad of a probable political re-entry should greatly concern his detractors. More so his old Labor brethren, firmly when it suits them, cemented in the boring fairy tales of Labor folklore. You know the old pub parking lot spruiks from the back of a ute, schooner in hand, exhorting those not busy running off to SP bookies to 'vote early and vote often.' And reveries of that 'light on the hill'—someone left the dunny door open—while menacing wharfies coursed the throng for donations. Mark Latham could be an apprentice Trump. Would you bet on Latham or Shorten, or even Turnbull to be victor in the near future? Which one will be the cobra?
Those sledging Mark Latham are foolish. The last person on earth that anyone should ever get in a fight with is someone who has absolutely nothing to lose.
Source: News Corp
Mark Latham is a king rat with a bite that could cause serious harm
Someone with nothing to lose should always be considered an extremely dangerous person. Someone who has nothing to lose will not care what anyone thinks or says about them. They will not care about the harm they may suffer. Instead they will stand, their back to the wall, and fight with every ounce of their being, and consequently they will usually win.
When Latham is called a "rat" or a "king rat" by his former Labor colleagues, it doesn't hurt him in the least. The public don't see why the term Labor rat is a pejorative one.
This week our commentator Troy Bramston said a rat was "a term enveloped in Labor mythology" and "somebody who joins or supports Labor's opponents, breaking solidarity".
A rat is more than this, though. The sordid reality is that a rat was a term originally coined by criminals. A rat was someone who put observance of the law over blind allegiance to their fellow crims and subsequently informed on them to the police.
In the labour movement, a rat is someone who gives away dirty secrets and reveals damaging information about dodgy conduct. In the labour context, people who see and know things are expected to keep their heads down and their mouths shut, and in the end the rewards will come to those who wait.
This is the contract that binds and this, too, is the reason for Labor's shrillness. Latham doesn't need their rewards, he knows where the skeletons are buried and he is quite happy to point them out.
This week a spectacular ding-dong unfolded on Paul Murray Live on Sky News between Latham and our commentator Graham Richardson. In my opinion, the person who looked rattled was Richo, but you are encouraged to Google the clip and form your own conclusion.
In the heat of the argument, Latham reeled off a long list of names and details, including a mention of a Swiss bank account. Richo's mouth opened and closed like a gasping goldfish. It was spectacular television if nothing else. In the aftermath, on Twitter, journalists circulated titbits about Richo's past, using pages from published books and detailing allegiances with known criminals, historical activities and financial transactions.
None of Richo's past activities or alliances has ever resulted in formal adverse findings or prosecution. Nevertheless, both the exchange and the fallout stress the point that those with something to lose should avoid fighting with those who don't.
In terms of media-pulling power, Latham is a perfect 10. Any airtime he offers will be greedily gobbled up.
Latham could have a cap made with "Labor rat" embroidered on the front. He could cheerfully do the rounds of all the television stations, proudly wearing it, and reveal "why me being a Labor rat is a good thing for people like you".
Latham also could have some other caps made up with "Labor grub" across them. These could be waved at the cameras, with offers to post them around to key Labor people who he could nominate, elaborating on the reasons for the nomination.
If there is going to be a war between the Labor grubs and the Labor rats, then let's get on with it. It is not too hard to see who the public will side with, is it?
Latham's faults are well-documented, out in public, and he is the first to admit to them. He has nothing to hide. Unlike those he criticises, he isn't regarded as shady, shifty, dodgy or untrustworthy. To the contrary, he appears honest, so honest that the main complaint about him is that his brutal honesty is just too brutal.
I spoke with Latham for the first time this week, and he had a few comments to make about the present state of politics, which is his main concern. "The public is crying out for a third choice, and that would rapidly improve Australian democracy," he says, adding: "A third party would shake up the system and produce a better policy debate — it is unfortunate our minor parties are so fragmented."
In Australia, the traditional Left-Right paradigm is increasingly irrelevant. Instead, the divide is between insiders and outsiders, and those for or against government control, and those with or without skin in the game. Insiders are those with power but no skin in the game. Their living is secure, derived from government funding or government control of human behaviour or markets. Their tendency is to prefer the control of government, or institutions, over the population.
Outsiders are those with skin in the game and no power. Their living is derived from the free market or subject to the market. If they fail, they will suffer the consequences. They resist government control and take the view that any government we have should work for them, particularly since they create the wealth to fund it.
"The Australian economy is not working for the people," Latham says. He points to the US, and says that this was and is key to the difference between our nations.
"My preferred choice is that the minor parties stop competing against each other and come together for the next election."
Perhaps a merger is out of the question, but some formalised alliance may be possible.
In the US, Donald Trump was elected on a promise to make the government work for the people. In Australia, the feeling is the people work for the government. No one promising to reverse all that, and with the machinery to deliver it, has come along yet.