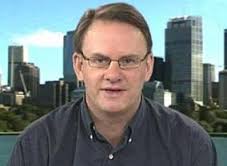 Mark Latham to go One Nation
UPDATE: Listen to Hanson/Latham/Jones interview below!
This news comes as no surprise to Morning Mailers and all we ask is what took so long? Latham was once a stalwart Labor figure, politically astute, outspoken, and in Aussie terms a bit of a larrikin. You may recall the fracas involving a taxi driver's arm? Labor ranks will be sniffing and snorting about him being a traitor and wanting to burn him at the stake. Labor's Marxist base is a only a bit short of the Islamic culture in which apostates are severely punished. Former Tasmanian Labor premier David Bartlett was the first Labor dolt to condemn. The Coalition will be guffawing down their collective sleeves in dismissal. Until reality sets in, particularly around the traps in the Hanson territory of Queensland. Even a fool knows the fragility of politics Australia and the unholy mess donated as a Turnbull legacy, which he says he will vigorously defend—what a jolly good idea—the faecal touch lives on!
It is understood he [Latham] will today ­announce he will take on a leadership role as the head of One ­Nation in NSW. But Senator Hanson's spokesman said Mr Latham would not be on One Nation's Senate ticket. He confirmed on 2GB yesterday he would return to politics, saying he would be making an ­announcement about joining One Nation "soon". "Watch this space," he told host Ben Fordham.
Source: News Corp
Mark Latham to join Pauline Hanson's One Nation
Former Labor leader Mark Latham is to join Pauline Hanson's One Nation.
Former Tasmanian Labor premier David Bartlett called him a "sick, sad, sorry loser" after the news broke.
Mr Latham turned to political commentary after quitting ­federal parliament in 2005 following John Howard's victory over Labor the previous year.
He says he was sacked as a columnist for the Australian Financial Review in 2015 for making ­offensive comments about Rosie Batty, whose ex-husband murdered her son.
He also worked as a co-host of the Outsiders show on Sky News, but was sacked following offensive comments about fellow Sky presenters and the teenage daughter of the Reserve Bank governor.
He made his return to political life this year by joining the Liberal Democratic Party, but quit in September, saying he was being blocked from running for a Senate spot.
"The Liberal Democrats have got a national executive that's debating a potential role for me for quite some time and a couple of members there said, 'Look, this thing is such a mess internally, we're supportive of you but we think you're a better chance of running in a different party or under a different guise'," he said shortly before quitting the party.
Mr Latham sparked speculation he was joining One ­Nation when he recorded a robo-call for Senator Hanson during the Longman by-election campaign in July.