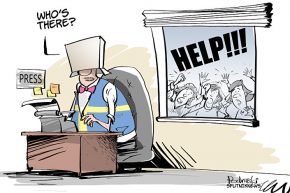 I'm not a turnip,
I'm a Swede
Driven mad by the fact that once-great Britain is racing away with the PC prizes, Sweden has struck back with prosecutions for hate speech on social media.
It is a kind of myth that the coppers are prevented from doing their job rounding up Muslim gangs and clearing away the no-go areas, it turns out that a significant factor are ex-coppers themselves.
Yes indeedy, Sweedistan authorities have donated over a hundred grand (A) to an ex-cop called Tomas Åberg, and a bunch of his ex-copper mates and a lawyer or two to scan the internet and trap ladies of a certain age who routinely diss Muslims.
They don't put it like that of course. That would never do. No, they go looking for 'web hate' – and, bless my soul, it's always Muslims who are targets of the web hate.
Last year Tomas Åberg reported 750 Swedish citizens, for "web hate" 150 went to prosecution and 77 were convicted. The vast majority were over 50's.
Aftonbladet, a once-newspaper with the same ideological slant as say, the Herald or the Guardian, or the New York times, namely the same slant as limp-wristed sitzsprinklers, nominated Tomas Åberg for its prestigious "Swedish Hero" award for turning in 750 citizens for saying what they think. The Swedish Hero prize is normally awarded for " everyday heroes who have shown bravery, civil courage and human compassion" so Outstanding Services to Dobbery is what the Swedes think is heroic.
Shortly after Åberg's nomination to the "Swedish Hero" award, however, his name disappeared from the list of nominees with no explanation offered by Aftonbladet. Åberg, it turned out, who used to own an animal farm, had apparently starved his oxen to death in 2013. After he was reported to the police for the animal abuse, he reportedly changed his name, fled abroad to escape justice, and returned to Sweden only as the statute of limitations on his crime was expiring and it was too late to do anything about it.
It's typical of countries like Sweden who can afford to give more than half a million Swedish kroner away to a private vigilante organization, run by a fugitive from justist at a time when the Swedish police are starved for resources and barely have time to investigate the very crimes, including horrific gang rapes, which are causing these 'hateful' social media posts to begin with.
One of the elderly women, whose life Åberg has disrupted and possibly ruined, is a 73-year old woman with no criminal record, who passed on an old text from 2015, widely available on the internet and written by someone else, in a small Facebook group of barely 50 people. She has been charged with "incitement against an ethnic group" for sharing the following:
"A biological sensation in Sweden. A new bird species (parasitus muslimus) has established itself here… In recent years, the Arab bird (parasitus muslimus) has been widely spread in northern Europe, largely because it lacks natural enemies here…The female has a comprehensive feather shield, where only the eyes are visible… The male usually has four females… The species is a migratory bird but with the weird feature that they never move back…"
Another woman, 75, was charged with "inciting hatred against an ethnic group" after writing the following about marriage among Muslims on Facebook in May 2017:
"The right to our bodies? Wonder what they mean by that? They say they are not allowed to choose the husband themselves. It must be a cousin, uncle… or maybe a grandfather. Probably they are completely IQ-liberated because inbreeding among Muslims has been going on for thousands of years. "
Yet another woman, Christina, 65, was charged with "inciting hatred against an ethnic group" for writing on Facebook: "If this continues, the intelligence in Sweden will be at goldfish level" and "Refuse all that has to do with Islam". She denies having written those statements but insists that she wishes to warn Swedes against Islam. According to news reports, in 2016 Christina was assaulted by four so-called "unaccompanied minors" (guess bloody who) and knocked unconscious, an act that has impaired her memory. No one was sentenced for that assault, but she now faces financial difficulties and cannot pay her rent. She receives no help from the Swedish state. So far, Christina has reportedly been interrogated six times, for up to two hours each, for her alleged thought crimes, asked about her childhood, and whether she was doing drugs. She has no criminal record.
"It's terrible to feel like a dangerous criminal because you write the truth about what's happening in our society, while rape is high and criminals go free,"
Denny, a 71-year-old pensioner, is currently on trial for "incitement to hatred" for having asked, "One can criticize fascism or Nazism, but why not Islam? Why should Islam have any protection status?" Wow! if that is not hate speech, what is?
A 64-year old man was reported to the police by Näthatsgranskaren for encouraging Swedes to learn self-defense. He is now being charged with "incitement to hatred against an ethnic group" for writing on Facebook:
"Before it's too late, I suggest that anyone… who is able to manage to defend this country, joins the shooting clubs, self-defense clubs, karate clubs or anything… Everything is allowed for a Muslim as long as he harasses 'infidels'… a Muslim feels as bad about chopping off a human head as we do about opening a can of sardines".
Even before Åberg came into the picture, Sweden was prosecuting Swedes for "incitement to hate" as if the future of the Swedish state depended on it. Here are a few recent cases:
A woman in her fifties was sentenced to a fine in December 2017 for a post on Facebook, in which she called men from Afghanistan, who had lied about their age, "camel riders": "These damn camel riders will never be self-sufficient, because they are damn parasites," she wrote. Prosecutor Mattias Glaser emphasized that the post was directed against "young men struggling to stay in the country". According to the court: "… condescending words were used in a manner that… expressed contempt for people of Afghan origin or people from neighboring areas with respect to skin color and national or ethnic origin in a manner which fits the provision about incitement to hatred".
A 65-year old man was sentenced to a fine for "incitement of hatred against an ethnic group". His crime? Writing on Facebook that, "newly arrived" migrants, not Swedes, were guilty of committing gang rapes. According to the court, the man "claimed that Afghans, Africans and Arabs who have newly arrived in Sweden commit crimes such as gang rapes". This claim, according to the court, constitutes, "clear contempt" for people of the mentioned national origins. The 65-year old man argued that he published the comment because Sweden withholds statistics about the ethnic origins of rapists and that his comment was a way to spread information and start a debate. This made no impression on the court, which concluded: "The post contains a serious accusation that people of certain national origins commit serious crimes and it [the post] cannot as such be considered to arouse or contribute to an objective discussion on the subject."
And on and on, but to tell the truth they can't catch the Poms who prosecute people who do no more than read the Bible aloud, or who quote Churchill.
Sweden is notoriously swept by a strong wave of murder, violent assault, rape, gang rape and sexual assault, in addition to the ever-present terror threat. Instead of using its limited resources to protect its citizens against the violent onslaught against them, Sweden is waging a legal war on its pensioners for daring to speak out against the same violent onslaught from which the state is failing to protect them.
No wonder they're called Swedes.