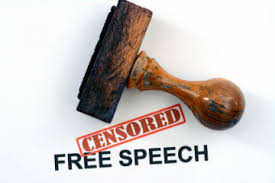 The gay campaign eschews free speech
Queer Fear is their agenda!
The only speech the gay campaigners embrace is their shrill demands to stand the norms of society on it head. This troubled minority have weaseled their way into positions of power, corporation heads and latterly, parliament in which maiden speeches declare their personal mission, to change the law for them. They must be voted out before statutory law is implemented to serve only a minority of sexual aberrants.
Jennifer Oriel writes in today's Australian:
In their campaign for gay marriage, some activists have developed a regrettably totalitarian strategy. It is to target dissenters, gay or straight, and silence them through persistent bullying. It is a strategy where the ends justify the means. The ends are not the formal equality of homosexuals and gay marriage. It is absolute conformity to radical queer ideology.
Gay censors don't want us thinking for ourselves
Like many columnists, artists and voracious consumers of the late Bill Leak's art, I have wondered what he might have made of the past week's events.
In a discussion of Leak's cartoons on Monday's Q&A on ABC, panellists praised polite speech in contrast to his politically incorrect art. The prim thought police did not deem impolite the audience member who smeared Leak as a "racist" only three days after his death. At times like these, you need Leak on the illustration and Baudelaire on the caption.
In the following days, a draft letter on same-sex marriage was leaked to the press. The corporate chiefs who signed it apparently wanted the Prime Minister to abandon his pre-election commitment to a people's vote on same-sex marriage.
Some queer activists have celebrated the idea of politicians snatching the plebiscite vote away from the people. They seem to ­believe that denying people freedom of thought is the constitution of equality. As a justification, they imagine some hypo­thetical harm that might result from fellow citizens exercising ­independence in a free vote on the matter of marriage. We are used to hearing the PC nonsense that free and civil speech causes harm. Now sections of the activist class contend that democracy too is harmful. They are unlikely to find accord among dissidents in totalitarian states.
In the same week, Islamophobia propagandists tried to stop ­enlightenment advocate and freethinker Ayaan Hirsi Ali speaking at events across Australia. She too has been criticised as harmful by people whose sense of self, status and taxpayer-funded careers rely on cultivating and maintaining a victim identity.
Just as the PC naval-gazers looked like they had reached peak narcissism, along came an outrage to outrage them all; a video of civil conversation between beer-drinking blokes. If not for the gallows of political correctness, the story could rival Springtime for Hitler in hilarity.
Consider the context. The scene is set on a balmy, late summer day. Two high-profile politicians from the political right — men in the prime of their lives — want to talk marriage. They have arranged to meet on none other than Valentine's Day at, wait for it, Queen's Terrace. Their brief, polite conversation is filmed by a fellow who recently has come out of the closet in Newtown, a Sydney suburb brimming with students, activists, lesbians and gays. Unfortunately, he has come out as a Christian and conservative in Newtown, which is something akin to staging a drag cabaret in the Kremlin.
The chat between the conservative straight politician who supports traditional marriage and the libertarian gay politician who wants same-sex marriage legalised is amicable. It is so civilised and friendly that it enrages activists who view dissenters as an enemy class to be silenced, not ­befriended. They dislike civility and public reason because it ­exposes their intemperance.
Some outraged activists took to Twitter and any social media platform they could find to launch a queer fear blitz on beer.
The video to discuss the meaning of marriage featured Coopers beer that was produced as part of a joint Coopers and Bible Society campaign, "Keeping it Light". The brewer has a long association with the society and the campaign ­includes a series of beer cartons with inspirational quotes from the Bible. Such quotes shouldn't be controversial in any country, let alone a Christian-majority nation.
In the past, some wine companies have inscribed bottles with scripture. It appears that the Coopers case became controversial for two reasons. Firstly, the company has a relationship with a Christian organisation (very politically ­incorrect). Secondly, the video cele­brated public reason on the question of marriage, which is an issue the PC class wants to monopolise. It targets dissenters, regardless of whether they are gay, bisexual or straight. The aim is to shut down all debate to create ­absolute ideological conformity.
Several Coopers boycotters were associated with the Greens. Adam Bandt and Christine Milne backed the boycott, as did Jason Ball, who stood as Greens candidate in the last election. On Twitter, Ball wrote: "… conservative Christians buy up cases of alco­hol to smite gay people". James Brechney, a Mardi Gras board member, led an online petition to boycott Coopers. It read: "Coopers recent alignment with the Bible Society, who are openly against Marriage Equality, is shameful!" Brechney described the conversation on marriage between parliamentary mates Andrew Hastie and Tim Wilson thus: "A video where two Liberal Party MPs discuss the issue of same-sex marriage. It's horrendous!"
On the Coopers Club forum, some members decried the company's commercial relationship with a Christian group. However, when a member asked what they thought of Coopers' halal certification, most declined to criticise the company's relationship with an Islamic group. It is a double standard. Boycott and divestment campaigns against Christians or Jews are commonly justified while boycotts of Islamic organisations are deemed racist.
Coopers made the critical error of capitulating to PC bigotry. ­According to sources, the legal counsel for Coopers asked the Bible Society to take down the video. It is no longer available ­online. In a filmed apology, Tim and Melanie Cooper looked like a pair of thought reform victims in a re-education camp.
If you want liberty, democracy and Christianity to survive, never submit to the PC mob. In its ­response, Coopers might have stated simply that while the company didn't finance the video, its ­leadership believes in free speech, freedom of association and a ­vibrant Australian democracy where mates can discuss any issue over a beer.
There was little to learn from the activist campaign against free speech between mates, but irony emerged in its wake. The biblical quote on Coopers' controversial beer read: "Whoever lives by the truth comes into the light" (John 3:21).