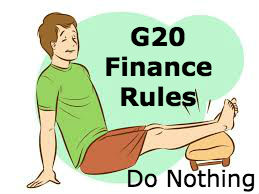 G20: "Climate change is out for the time being"
World financial leaders are in a tizzy, their comfy club in turmoil as their longtime schemes of patchwork tinkering with the unknown takes on a new reality—Trumpism. A departure from mealymouthed appointees forever terrified of making decisions, the "do nothing and you can't get blamed for a mistake" syndrome so common.
World financial leaders have dropped a reference to financing climate change from their draft communiqué, says an official taking part in a meeting of finance ministers and central bankers of the Group of 20 leading economies. The world's top finance ministers and central bankers are involved in a two-day meeting in Germany at a time of heightened global uncertainty with President Donald Trump's "America First" agenda.
Source: Reuters
G20 drops climate change reference in Germany meeting
At their last meeting in July 2016 in the Chinese city of Chengdu, the G20 financial leaders said they encouraged all signatories of the Paris Agreement on climate change to bring the deal into force as soon as possible.
"Climate change is out for the time being," said the official, who asked not to be named.
President Trump has called global warming a "hoax" concocted by China to hurt US industry and vowed to unpick the Paris climate accord that is supposed to curb rising temperatures.
Australian Treasurer Scott Morrison will hold his first talks with new US and Chinese counterparts on the sidelines of the meeting.
He will also be holding talks for the first time with new United States Treasury Secretary Steven Mnuchin, as well as China's newly appointed Finance Minister Xiao Jie.
Here's a list of the main players at the G20 talks:
WOLFGANG SCHAEUBLE, Germany As host of the meeting, Germany's iron-willed finance minister will attempt to forge a consensus on a range of contentious issues, from trade to the US dollar.
SCOTT MORRISON, Australia Trade will be a big issue for Morrison in Baden-Baden with Australia making moves to secure a bilateral trade agreement with Britain after the Brexit and worries about Asian trade after Trump exited the TPP.
STEVEN MNUCHIN, United States As a member of President Donald Trump's cabinet, the former partner at investment bank Goldman Sachs, now treasury secretary, will turn his attention from the concerns of Wall Street to those of Main Street.
XIAO JIE, China Experts say the new finance minister will try to reassure his international counterparts that China's debt risk is under control and will not further slow the domestic economy.
MARIO DRAGHI, European Central Bank The eurozone economy appears to have slowly begun to turn the corner after years of stagnation and recession, allowing European Central Bank chief Mario Draghi, known as "Mr Euro", to claim that his contentious monetary stimulus plan is working.
PHILIP HAMMOND, Britain Nicknamed "Spreadsheet Phil" or "The Undertaker" in British media for his taxman-like demeanour, Treasury chief Hammond is tasked with Brexit-proofing the economy as Prime Minister Theresa May prepares to launch two-years of divorce negotiations.
JOSE ANTONIO MEADE, Mexico The Mexican finance minister will be listening for any mention of a potential US border tax on goods imported from Mexico, which Trump says could help pay for the construction of a border wall.
JANET YELLEN, United States Yellen became the first women to the lead the rate-setting US Federal Reserve in 2014. She gained a reputation as a cautious but ambitious thinker with a sharp intellect, having sounded the alarm bells early over problems in the US housing market.